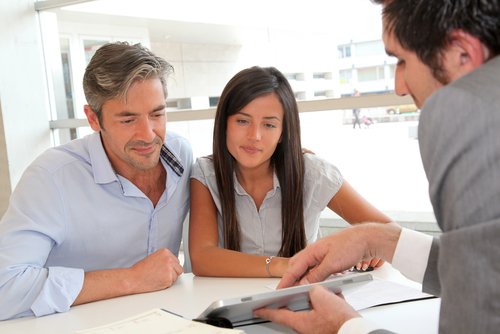 More than $1.5 trillion in student loan debt is currently owed in the U.S. by a total of more than 44 million people. Unfortunately, many of those people are unable to pay back their debt, and the student loan companies have no choice but to come after the co-signers on the loans: parents. Just as many parents are finally beginning to pay off their own loans and look toward retirement, suddenly a student loan company is hounding them for payment. What can you do if you find yourself in this situation? First, it's important to know all the details involved and see what exactly you can and can't be held accountable for.
Will I Be Forced to Pay Back My Child's Student Loans?
Whether or not you can be forced to make payments on your child's student loans depends primarily on one important factor: Whether you signed an agreement. Did you co-sign on a private loan or take out a federal Parent Direct PLUS Loan? If the answer is no – you never put your signature on any paperwork and never agreed to take on the debt – no loan company can come after you for the money later. If you did put your signature on the paperwork, it means at some point you agreed to be held accountable for the debt if your child defaults on payment. You hope to never be in this situation, but now you are.
What If I Can't Afford the Payments?
The student loan company will start by trying to reach you by phone or mail. If you don't respond and fail to make any payments, they will escalate their efforts until it becomes quite intense. The loan company can turn you over to a collection agency, threaten to sue you, harm your credit and prevent you from getting another loan. Eventually, you may have your wages garnished. If you protest paying because you can't afford it, you'll have to prove that you can't possibly pay – and this is very difficult to do. In 1976, Congress made a rule that federally backed student loans couldn't be erased in bankruptcy without proving undue hardship, but they leave it up to the courts to define what that means. In 2005, Congress passed bankruptcy law reform laws that stated that all loans made for an educational benefit are not dischargeable.
How Do I Prove That I Can't Pay Due to Hardship?
To prove hardship, you'll need to pass one of the two tests courts use to define undue hardship – either the Brunner Test or the "certainty of hopelessness" rule. The Brunner Test looks at factors like poverty, your financial future and your good faith efforts to pay. For certainty of hopelessness, they look at issues like disability, life challenges and depth of poverty. Still, these hardships are extremely difficult to prove to the court. There have been numerous cases where someone is hundreds of thousands of dollars in debt, making less than $20,000 a year, barely able to get by and still are not released from student loan debt.
Can I Avoid Paying the Student Loan Company By Filing for Bankruptcy?
Although bankruptcy isn't usually a direct path to eliminating student loan debt, it can still be a smart choice. Bankruptcy reduces or erases other debts, like credit card balances and medical bills, so you can afford to make the monthly student loan payments. This comes as a huge relief to older adults who are struggling to pay on their children's educational debts. It means you can clear up the debt as quickly as possible, while you are still in your working years, and be able to look forward to a happy and comfortable retirement someday.
Chapter 13 bankruptcy can also keep the student loan creditors at bay for a period of years. It, in effect, acts as a multi-year deferral. The loans will still be there at the end of the case, however.
If you're facing debt from your child's student loans, consult with a bankruptcy attorney who can help protect your financial future.
Sawin & Shea – Indianapolis Bankruptcy Attorneys
Filing for bankruptcy is not the end. It's the beginning of a new financial life for you. The Indiana bankruptcy attorneys at Sawin & Shea can help you get rid of the overwhelming debt and advise you on life after bankruptcy.  We are here for you during this life-changing process. Please do not hesitate to call us today at 317-759-1483 or send an email for a free consultation. We are ready to help.