Trusted Chapter 13 Bankruptcy Lawyers Serving Indianapolis and Central Indiana
A Chapter 13 Personal Bankruptcy May:
Provide Automatic Court Protection From Creditors
Stop Harassing Calls and Letters
Stop Lawsuits and Garnishments
Stop Foreclosures to Save Your Home or Investment
Stop Repossessions
Protect Co-Signers
Significantly Reduce Your Unsecured Debts
Allow One Monthly Payment for Most of Your Debt
Consider a Chapter 13 Personal Bankruptcy if:
You Are Behind in House or Car Payments
You Have a Foreclosure or Sheriff's Sale Pending
You Have a Pending Repossession
You Have Significant Assets or Equity in a Home or Other Property You Want to Keep
You Have Tax Debt
You Have a Co-Signer You Desire to Protect
You Have Joint Debt with Ex-Spouse
What is a Chapter 13 Bankruptcy in Indiana?
Chapter 13 is a personal reorganization bankruptcy. It provides protection from creditors while a plan to deal with debts is put together. Chapter 13 provides help to people looking to stop foreclosures, avoid repossessions, and stop other creditor collection efforts.
Do I Have to Repay All of Our Debts in Chapter 13?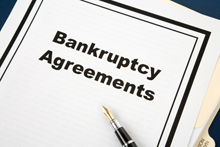 A chapter 13 plan treats all of your debts in one way or another. However, this does not mean that you repay your debts in full. You are required to pay your creditors what the law says you have the economic ability to repay. Chapter 13 bankruptcy plans regularly reduce the amount paid to your credit cards, medical bills, collection accounts, and other unsecured debts to pennies on the dollar. This allows you to concentrate on important things like your home and car.
What About My Home in Chapter 13?
Many people facing foreclosure choose chapter 13 for a very good reason. A chapter 13 filing can stop foreclosure up to the point of a sheriff's sale. The reorganization plan then gives you three to five years to catch up on payments you were behind as part of the monthly plan payment. It is also possible in certain situations to use chapter 13 bankruptcies to do away with second or third mortgages or home equity loans. Chapter 13 can also help you shelter non-exempt equity in real estate that can be a problem in chapter 7 filing. Chapter 13 filing also protects your real estate from ongoing claims or liens by your general creditors.
What About My Car in a Chapter 13?
You have options on how to deal with car creditors in a chapter 13 bankruptcy plan. A chapter 13 filing stops repossessions and can catch up past payments. Chapter 13 may reduce your loan's interest rate, principal balance, or both. Some people opt to simply continue making their regular car payments.
Chapter 13 Bankruptcy and Credit Card Debt
Are you a high income earner with large amounts of credit card debt? You may have put off filing for bankruptcy because you don't qualify for Chapter 7, and you fear you won't be able to repay your credit card debts under the structured repayment plans of Chapter 13.
The good news is, while Chapter 13 is based on structured repayments, you are still eligible for an automatic stay, which means your debts will be frozen so they cannot increase. Chapter 13 sorts debts into three types: secured debts, unsecured debts, and general unsecured debts. Under Chapter 13, some debts are repaid in full, others in part, and some not at all, depending on their priority level.
Bankruptcy and Cosigners
Attempting to file a Chapter 13 Bankruptcy when you have one or more cosigners on your debt may be a process that puts you at odds with the people who have been willing to help you. But rest assured, Chapter 13 does not have to put your cosigners at risk.
When you file Chapter 13 Bankruptcy, the court will place a co-debtor stay on your debts, protecting your cosigners from being harassed or pursued, as long as the repayment plan is met. Other repayment options are available, and if your cosigners are unable to take on the responsibilities required of them, they can pursue their own Chapter 13 Bankruptcy suit.
Is Chapter 13 a Loan?
Chapter 13 personal bankruptcy is not a loan. It is a Federal Bankruptcy Court sanctioned debt reorganization plan. The powerful laws that govern chapter 13 can help save homes, stop repossessions, and reduce unsecured debts such as credit cards and medical bills to pennies on the dollar. Most debt balances are wiped out upon completion of a chapter 13 plan.
What Happens After Bankruptcy Discharge?
After you complete the bankruptcy process, you are automatically protected by the court's discharge order, which means you can't continue to be harassed by creditors and collectors. At this point, you have great things to look forward to: financial stability, new credit offers, and even the purchase of a new home or car when you're ready.
One of the things to be wary of after a bankruptcy case is the temptation to rebuild your credit faster than you need to. Rebuilding your credit is a slow and steady process, but you will start to get offers for "quick fixes". Beware of offers like these and their high interest rates and huge fees. Remember that if it seems too good to be true, it probably is. Rebuilding your credit will take time, but it is completely possible with smart financial decisions.
Is Chapter 13 Right for Me?
If you face a foreclosure, repossession, tax, or just plain debt problems chapter 13 bankruptcy in Indiana may be the answer. We offer a free consultation with an expert bankruptcy attorney to review your personal situation and advise you of your options. Your creditors have attorneys, collection agents, and resources to use against you. Call today to get the information you need to level the playing field.
How to Choose a Bankruptcy Attorney?
Are you facing a foreclosure, or the repossession of your assets? If so, you are likely being harassed by creditors, feeling overwhelmed by the amount of unsecured debt you carry, and worried about protecting any co-signers you may have on loans. But where do you begin the process of turning your financial situation around?
If Chapter 13 Bankruptcy is something you are considering, there are a few key things you should think about when selecting a Bankruptcy Attorney. Choose an attorney you trust, and one that works out of compassion and attentiveness. Find someone who wants to help you get back on your feet, and isn't in it for what they stand to gain.
WHY CHOOSE MY CHAPTER 13 BANKRUPTCY FIRM?
Chapter 13 is not for everyone. Typically, chapter 13 is used for the following purposes:

Stop foreclosure and save your home
Protect your car from repossession
Eliminate your 2nd mortgage
Lower your car loan's interest rate
Pay back debts that are not dischargeable in chapter 7 such as tax debt

Additionally, people who have filed chapter 7 in the past 8 years must file chapter 13 and really high income earners may have to file chapter 13.
A BRIEF DESCRIPTION OF CHAPTER 13 BANKRUPTCY
The case begins with the filing of the bankruptcy petition and the filing of a proposed payment plan. A hearing called the first meeting of creditors or 341 hearing is scheduled in about 4 weeks. Typically, creditors do not attend this hearing.

The hearing is not in front of a judge and it is not in a courtroom. The hearing is conducted by a trustee–which is simply an attorney who conducts the hearing and his/her role is to ensure that the creditors are properly treated in the proposed payment plan.

The attorneys in this office have had numerous hearings with each trustee so once we see who your case is assigned to we will be able to explain exactly what you can expect from the hearing and this process.