Understand the Myths About Personal Bankruptcy
1. Bankruptcy No Longer Exists – Bankruptcy never went away! This myth started when Congress made big changes to the Bankruptcy Code in 2005. The changes did make it more complicated to file bankruptcy, though. That is why it is so important to have experienced attorneys on your side who have studied and worked extensively with the new law.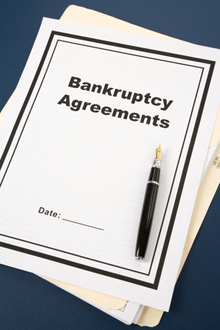 2. I Will Lose My House if I File a Bankruptcy – Helping people keep their homes is important to us. With chapter 13 bankruptcy we can help people get caught up on past due mortgage payments, stop foreclosures, and stop sheriff's sales of homes. In some circumstances we can even get rid of second or third mortgages. Most homeowners who file chapter 7 bankruptcies keep their homes through what we call reaffirmation of debt. At your free consultation we will discuss with you how bankruptcy actually protects your home. If you have decided that it is not in your best interest to keep your house, bankruptcy can help protect you and make this transition easier.
3. I Will Lose My Car if I File a Bankruptcy – There are many ways that personal bankruptcy can help people keep their car. We can use bankruptcy to stop repossessions and get you back on track with your payments. In some cases we can reduce your interest rate and/or principal balance on your loan. If you are looking to get out from under your car obligation we can use bankruptcy to protect you from your car creditor's claims. We will happily discuss your unique scenario at a free consultation.
4. I Will Have to Repay My Debts Even Though I Filed Bankruptcy – Upon completion of your bankruptcy case, the Court issues what we call a "Discharge of Debt".&This discharge eliminates most debts. Credit cards, medical bills, collection accounts, repossession balances and many other debts are eliminated, never to return, upon discharge. There are a few types of debts such as child support, some taxes, government fines, and a few others that are not dischargeable in bankruptcy.
5. I Will Have a Hard Time Finding a New Job if I File for Bankruptcy – Potential employers may ask about your financial history when applying for new positions, especially if your job involves handling money. Honesty is always the best policy. You may wish to ask them who they would rather hire, an honest and forthright person who filed bankruptcy or a person with a mountain of debt and hounding bill collectors and the temptations that creates. Finally, it is generally more difficult for a person to find a job when they have thousands of dollars of bad debt.
6. Bankruptcy Will Not Stop My Wage Garnishment – All collection efforts against you, including wage garnishment, stop when a personal bankruptcy is filed. It is critical to file as soon as possible when a garnishment starts because wages seized prior to filing are lost. Contact us at (317) 759-1483 to discuss with an attorney how quickly a bankruptcy can be filed to stop garnishments or other creditor actions.
7. I Can't Get Rid of Lawsuit Debt – Bankruptcy stops almost all collection actions, including lawsuits. A lawsuit does mean that the creditors are getting aggressive in their collection efforts. It is important to protect yourself as soon as possible.&Call for a free consultation to discuss how to protect your rights.
8. I Will Lose My Job if I File a Bankruptcy – It is illegal for an employer to fire you for filing bankruptcy. If you are fired because of a bankruptcy you may have grounds for a lawsuit.
9. Bankruptcy Does Not Cover Credit Cards Anymore – Absolutely not true! Credit cards are treated the same as other unsecured debts such as medical bills, signature loans, payday loans, overdrafts, and collection accounts.
10. Bankruptcy Will Affect My Current or Future Spouse's Credit – Many married people do file jointly because they share debts or they both have debt problems. However, if only one of you files bankruptcy, the credit rating for your spouse (or future spouse) will not be affected.
11. A Judge Will Yell at Me if I File For Bankruptcy – Most people who file for bankruptcy will never even see a judge. Usually there is only one short meeting with a bankruptcy trustee. In any case, the judges and trustees all understand that bankruptcy is a financial issue, not a moral or ethical issue.
12. Everyone Will Know that I Filed Bankruptcy – The wide scale publishing of bankruptcy filings in local newspapers is a thing of the past.
13. I Will Never Be Able to Rent an Apartment or Buy a House after Bankruptcy – Wrong! At your free consultation we can explain how a bankruptcy may even make it easier to buy or rent a house.
14. I Will Never Get Credit Again After Bankruptcy – The opposite is generally true. Credit scores tend to improve after a bankruptcy. Many people find themselves flooded with credit offers after they file.
15. If I Have Filed Bankruptcy Before, I Can Never File Again – Not true! This is another myth that started when the Bankruptcy Law changed in 2005. The rules are more complicated than before, though, so call us at 759-1483 to see how soon you can file again.
And One More Thing to Consider …
Bankruptcy is Not the End of the Road, it is a Fresh Start – You may be surprised to learn that many successful people have a bankruptcy in their past. Abraham Lincoln, Walt Disney, Henry Ford, Milton Hershey (the chocolate company's founder), Henry Heinz (the ketchup company founder), Mark Twain, PT Barnum, Larry King, and Johnny Unitas all had to file bankruptcy at one point in their lives. Bankruptcy is a safety net that helps people get back on their feet after some tough times.