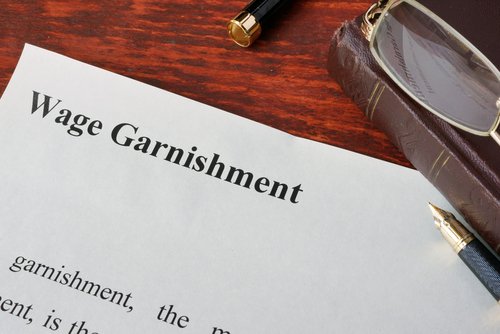 If someone is garnishing your wages, filing for Chapter 7 or Chapter 13 bankruptcy might stop the garnishment – or it might not. However, bankruptcy can stop almost all types of wage garnishments.
What is Wage Garnishment?
Your wages are garnished when a court orders a portion of your paycheck be paid directly to a person or organization to whom you owe money. Wage garnishment can occur due to a judgement from a lawsuit, student loans, benefit overpayments, back taxes, child support and many other types of debt owed. Your employer will be notified about the amount to be withheld. In Indiana, wage garnishments are limited to 25% of your disposable earnings, or the amount by which your weekly pay exceeds 30 times the minimum wage, whichever is lower.
Does Bankruptcy Stop All Garnishments?
No, bankruptcy doesn't stop all garnishments. A bankruptcy stops most garnishments. However, bankruptcy does not stop garnishments related to child support or spousal maintenance. Some garnishments, like those from non-dischargeable tax obligations or student loans, will stop temporarily during the pendency of your bankruptcy case, then re-start after your discharge.
Can My Employer Fire Me Over This Issue?
No. According to the federal Consumer Credit Protection Act, your employer cannot fire you or otherwise penalize you because of your bankruptcy or garnishment status.
What if I Object to Wage Garnishment?
You can challenge a wage garnishment by sending a written objection and requesting an appearance before the court that issued the order. The court has some discretion on how much the garnishment order pulls from your paycheck. In reality, courts rarely order a garnishment level less than the maximum amount. Bankruptcy can, in most cases, stop a garnishment no matter where in the process it is.
What Happens with Garnishments When My Bankruptcy Ends?
As your bankruptcy period ends, your garnishments will be over for all debts discharged in your case. Garnishments related to non-dischargeable debts can resume. It can be confusing to sort through what happens at the end of a bankruptcy, so it's a good idea to work with an experienced bankruptcy attorney who can examine your debts and recommend the best path forward.
Sawin & Shea – Indianapolis Bankruptcy Attorneys

To get a clearer picture of your bankruptcy claims, turn to Indiana's bankruptcy attorneys for trusted advice. The experienced lawyers at Sawin & Shea can help you get rid of the overwhelming debt and advise you on life during a repayment plan.  We are here for you during this life-changing process. Please do not hesitate to call us today at 317-759-1483 or send an email for a free consultation. We are ready to help.