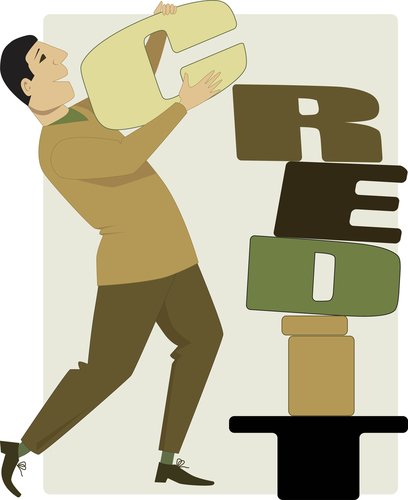 Each year, 500,000 Americans file for bankruptcy. They start this journey for a million different reasons, ultimately traveling the same path. Everyone must face the daunting task of reconstructing their credit rating. A Chapter 13 filing stays on your records for seven years while Chapter 7 remains for 10 years. Bankruptcy, however, does not taint your financial picture forever. In fact, in many cases, filing a bankrutpcy makes your credit rating improve in the 12 months after filing/discharge. For this reason, having an experieinced bankruptcy attorney in your corner helps you know what to expect and move forward in rebuilding your life.
When Do I Need to Start Rebuilding My Credit?
Start the day your case is discharged in a Chapter 7 and upon the filing of a Chapter 13. You must use credit to rehabilitate your credit. Start small. A low limit charge card is a good place to start. Using the card each monthly on a small charge you can pay off before interest becomes due is important. The longer you have an account in good standing, without carrying a balance, is the most helpful for increasing your credit score.
What Are Some of the Things I Need to Do?
First, realize you are the only person who can rebuild your financial standing. Do not turn to credit repair agencies who promise to remove your bankruptcy filing or fix your credit report. They overcharge for services you can do for free. Follow these seven steps to start you on the rebuilding journey:
Set up a Budget – Your Trustee may have recommended money management classes to assist you in creating a monthly budget. Learn to differentiate between your needs and wants, which can keep you on course. Your plan should list necessary expenses, reduce non-essential ones and include savings contributions.
Pay on Time and in Full – Mark your calendar when bills are due. Pay a couple of days ahead to avoid any delays that could make your payment late. Because payment history makes up 30% of your credit score, show that you now practice good financial habits.
Review Your Credit Report – Obtain a free copy of your credit report from the three major bureaus – Equifax, Experian and TransUnion. Go over them and look for mistakes. If you find any, report them promptly. Be sure to include a copy of your credit record with the error Provide back-up documentation showing proof of an issue. Send everything by certified mail.
Start an Emergency Fund – Set aside enough money to cover three months' worth of expenses. It is tough to do, but it prevents facing an unexpected expense empty-handed.
Apply for a Secure Credit Card if You Cannot Get a Regular Card– These cards act the same way as your debit card but come with a yearly fee. Deposit a set amount ($500-$1,000) in a bank to serve as your credit limit. Be sure the card you select reports to the credit reporting agencies. Use the card and pay it off each month.
Do Not Close Accounts – Thirty percent of your credit score is calculated from amounts owed. If you close accounts, it will lower the score. Cut the credit card up if you are worried about using it.
Avoid Borrowing Too Much Too Soon – It takes 18 to 24 months after discharge to secure a loan with reasonable rates. Before then you can pay two to three points over conventional rates. If you want to refinance your mortgage, wait the 18 months and get a better rate.
Why is It So Hard to Rebuild Your Credit?
Bankruptcy means a fresh start without the burden of having to repay most debts. It does not erase your past credit history from your record. It is not just about re-establishing credit. You are rebuilding the trust creditors once had in you. Prove you are a responsible consumer with good financial habits. Show them you can avoid making the same mistakes that forced you into bankruptcy. Your goal is developing the money skills you lacked previously and working hard to turn your credit around.
Sawin & Shea – Indianapolis Bankruptcy Attorneys
Filing for bankruptcy is not the end. It's the beginning of a new financial life for you. The Indiana bankruptcy attorneys at Sawin & Shea can help you get rid of the overwhelming debt and advise you on life after bankruptcy. We have experience in bankruptcy procedures. We are here for you during this life-changing process. Please do not hesitate to call us today at 317-759-1483 or send an email for a free consultation. We are ready to help.