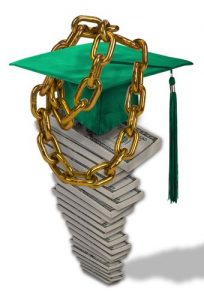 The costs of higher education and high unemployment rates are leading to an increase in the number of bankruptcy cases involving student loan debt. The National Association of Consumer Bankruptcy Attorneys recently announced that more than four-fifths of bankruptcy lawyers have seen an increase in student loan cases. In 2010, federal and private student loan debt neared the $1 trillion mark and outpaced credit card debt for the first time.
Recently, some political pundits have proposed changing the bankruptcy laws to make student loans dischargeable in bankruptcy. For now, loans made for an educational benefit generally do not get discharged in a bankruptcy. It is possible, though, to use bankruptcy to provide temporary protection from student loan collections. A Chapter 13 filing can keep student loan collections off of your back for up to 5 years. In some cases we can ask the Bankruptcy Court to review student loans for a possible discharge.
Discharging student loans
In order to have student loans discharged or canceled completely through bankruptcy court, the debtor must prove that repayment of the debt will cause an undue hardship on the borrower and his/her family. The process of filing for bankruptcy itself lends automatic protection from debt collectors until the case is closed or the creditor receives permission from the court.
Proving hardship
Undue hardship is determined through various legal tests. These tests evaluate whether the borrower can maintain a minimum standard of living if student loans are repaid as well as if extenuating circumstances will continue for the majority of the loan repayment period. The tests also considers if the debtor has made good faith attempts at repayment of the student loan debt.
Filing Chapter 13
A Chapter 13 bankruptcy can delay the repayment of student loans for up to five years, while also forcing other creditors to accept what the law says you can afford to repay. This breathing room can help get people to a place where they can concentrate on repaying student loans after other problematic debts are dealt with. While the unpaid balances of most other types of debts are discharged upon completion of a Chapter 13 plan, student loans, absent a determination by the Bankruptcy Court that the student loan debt is discharged for hardship, will ultimately survive the Chapter 13.
If you are struggling to repay student loans and keep up with the rest of your debts, you should contact an experienced bankruptcy attorney. Call us now at 317-759-1483 to set up a free consultation with a compassionate bankruptcy lawyer who can help free you from your debt. You can also email us for more information.
About the Attorneys
Andrew Sawin received his Bachelor of Arts degree from Indiana University in 1989 and his Doctor of Jurisprudence from Indiana University School of Law – Indianapolis in 1995. He has concentrated his practice in the field of Consumer Bankruptcy for the past 15 years.
Richard Shea graduated from California State Polytechnic University, Pomona with a Bachelor of Science degree in Hotel & Restaurant Management in 1995 and received his Doctor of Jurisprudence from Indiana University School in 1998.
Larry Des Jardines graduated Summa Cum Laude with a Doctor of Jurisprudence degree from Indiana University School of Law. Larry is a member of the Indianapolis Bar Association, the Indiana State Bar Association, the American Bar Association and the National Association of Consumer Bankruptcy Attorneys.