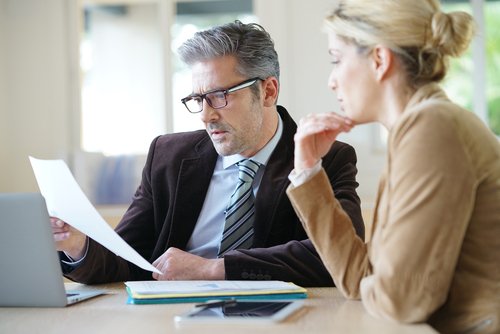 It is estimated that in the United States, about 770,000 people file for bankruptcy every year. Filing for bankruptcy involves completing official government forms and following a specific process. You'll need to familiarize yourself with federal bankruptcy laws as well as your state's specific rules, including important exemptions that could protect your property and belongings. This is the right time to get help from a bankruptcy attorney who already understands the complexities of the law and the court systems and can make sure your bankruptcy goes as smoothly as possible.
What's the First Step in Filing for Bankruptcy?

First, connect with a bankruptcy attorney. Your attorney will help you complete bankruptcy forms and submit them to the appropriate court, usually electronically. This is much easier with the help of an attorney. Otherwise, you would be left to locate and submit all of the paperwork on your own. Your attorney will also help you ensure that you are submitting all information completely and accurately. If you fail to provide adequate information, it could slow down the process. If you provide inaccurate information, it could be considered a bankruptcy crime.
Do I Have to Hire a Bankruptcy Attorney?
It's your right to represent yourself in bankruptcy proceedings without an attorney. However, that doesn't mean it's a good idea. You may do something inadvertently that is not in your own best interest. For example, you may want to protect your home's value. But you might not know about the homestead exemption or how to use it correctly to preserve the worth of your home. This could lead to very bad results, the loss of your home. A bankruptcy attorney can help you understand this option and use it to your advantage. An attorney will also examine all of your forms and financial information in detail, to make certain you'll end up in the best place possible after the bankruptcy.
What Will Happen After I File My Forms?
After the petition is filed with the help of your attorney, all collection efforts against you have to stop. Your case will be given a case number and a judge will be assigned to it. Depending on whether you have filed for Chapter 7 or Chapter 13, the bankruptcy court will evaluate your income and assets in specific ways. They will also look at the amounts and types of debt you owe. If you have filed for Chapter 7, a Chapter 7 Trustee will examine your assets to see if there are non-exempt assets that could be liquidated to pay part of your debts. In Chapter 13, also called a reorganization bankruptcy, you will work with your attorney and the court to create a repayment plan to pay back a percentage of your debts. Prepare to wait two to three months while the court evaluates your case and gives your creditors a chance to respond. During this time your attorney will handle any necessary communications and paperwork, keeping in contact with you along the way.
How Long Will it Take for My Bankruptcy to Happen?
The timing depends on whether there are any issues that need resolved to move your case forward. In a Chapter 7 case, typically you will receive a discharge in 60 to 90 days. However, if there are assets that a Trustee is pursuing, an administrative process to collect and distribute those assets can take several months to a year, followed by a closure of your case. For a Chapter 13 bankruptcy, the length of time will depend on the terms of your repayment plan. Three to five years is a normal amount of time. Consult your attorney to understand the timeframe involved, so you'll know when it's time to breathe a sigh of relief and look forward to a fresh financial future.
Sawin & Shea – Indianapolis Bankruptcy Attorneys
Filing for bankruptcy is not the end. It's the beginning of a new financial life for you. The Indiana bankruptcy attorneys at Sawin & Shea can help you get rid of the overwhelming debt and advise you on life after bankruptcy.  We are here for you during this life-changing process. Please do not hesitate to call us today at 317-759-1483 or send an email for a free consultation. We are ready to help.