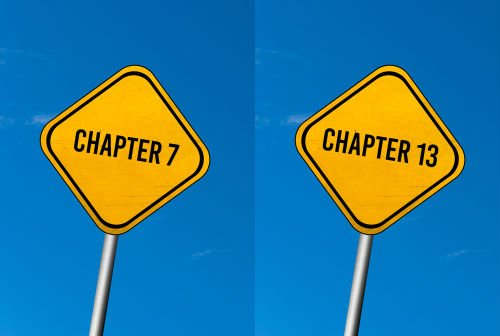 Chapter 20 bankruptcy isn't actually an official part of the bankruptcy code. It's more of a bankruptcy strategy you can use to clear your debts. The number twenty in the name comes from the combination of a Chapter 7 and a Chapter 13 bankruptcy. Choosing this approach can cause a positive effect on your financial future, but it's tricky to accomplish. You should proceed carefully with the advice of an experienced bankruptcy attorney, who can explain common questions and concerns that arise using a Chapter 20 bankruptcy strategy – or figure a way to simplify your bankruptcy strategy to fit into either a Chapter 7 or Chapter 13 bankruptcy plan.
Why Would I Choose Chapter 20 Bankruptcy?
A Chapter 20 bankruptcy combines the benefits of Chapter 7 and Chapter 13 bankruptcy plans. It allows you to discharge more of your debts in the long run. You pursue Chapter 7 first, reducing unsecured debts and lowering the amount of your overall debt. This may bring you into the range allowable under Chapter 13. After the entire process is complete, you're left with as little debt as possible and can move forward more easily. People who opt for Chapter 20 bankruptcy usually end up with less debt remaining than those who choose either Chapter 7 or Chapter 13 alone, but every situation is unique. Consult a bankruptcy attorney to be sure.
What are the Drawbacks of Chapter 20 Bankruptcy?
If you're an impatient person, Chapter 20 might be a frustrating process for you. It takes time. After you have discharged your debts through Chapter 7 bankruptcy, you must wait four years before you can receive a discharge under Chapter 13. Another drawback is that you might need to bend over backwards to prove to the bankruptcy court that you are not trying to act in bad faith, abusing the system. You'll need to follow the letter of the law and provide extensive documentation through both bankruptcy processes. For this reason, an experienced bankruptcy attorney can be your greatest asset. They know all the ins-and-outs of the law.
Will Chapter 20 Eliminate All My Debts?
Certain debts can't be cleared through any bankruptcy – Chapter 7, Chapter 13 or Chapter 20. If you owe back taxes, some may remain despite the bankruptcy process you choose. The same goes for alimony and child support, which you must continue to pay. Student loan debts usually can't be discharged by bankruptcy, although there are some exceptions. Chapter 7 doesn't help you catch up on mortgage or car payments, so you'll need to wait until the Chapter 13 part of the process to make headway on those. The bottom line is that you can't expect to eliminate all debts with any bankruptcy, but you'll make a huge dent in them so you can get back on your feet.
How Long Will Chapter 20 Take?
The time frame for a Chapter 20 strategy to evolve varies. In a best case scenario it will take about three to four months for Chapter 7 bankruptcy, then the Chapter 13 bankruptcy takes three to five years to complete. If you are still fairly young and made debt mistakes early on, if you are buried under a pile of expensive medical bills, then Chapter 20 can help you start making progress toward a fresh financial future. Consult a bankruptcy attorney to get started as soon as possible.
Sawin & Shea – Indianapolis Bankruptcy Attorneys
Filing for bankruptcy is not the end. It's the beginning of a new financial life for you. The Indiana bankruptcy attorneys at Sawin & Shea can help you get rid of the overwhelming debt and advise you on life after bankruptcy.  We are here for you during this life-changing process. Please do not hesitate to call us today at 317-759-1483 or send an email for a free consultation. We are ready to help.