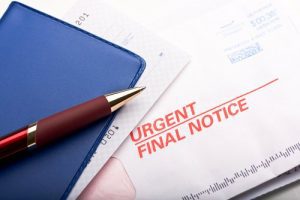 When banks have difficulty collecting payments from debtors, they often resort to acquiring the assistance of debt collection agencies to gather payments on the debts owed.
For people who have unresolved debt, this can result in harassing collection calls, persistent contact through the mail, and, in some cases, violations of privacy and of the FDCPA (Fair Debt Collection Practices Act).
If you are a victim of harassment from debt collection agencies, there are a few steps you can take to Stop Bill Collectors, and protect your privacy:
Make sure the collection agencies are adhering to the FDCPA requirements:
Collection agencies are only allowed to contact you between the hours of 8am and 9pm of your local time.
If you communicate to the collection agency that you do not want them calling you, they are not allowed to call you repeatedly.
You can request that collection agencies not call you at specific, inconvenient times (i.e. during a time you will have visitors, or during your dinner hour, etc.)
You can request that a collection agency stop communicating with you over the phone and only communicate with you in writing. This is an ideal form of communication because you have everything in written form and if the agency is in violation of your rights, you have proof.
If the collection agencies do not respect your wishes of preferred communication or if they persist in harassing you or calling you outside of the allotted times, you can report them to the Federal Trade Commission or your Attorney General and the collection agency will be investigated.
You can write the collection agency a Cease and Desist letter:
The agencies are not required to adhere to your request, but often they will turn the debt back over to the original creditor or to another agency.
These letters can only apply to a debt collection agency and not to the original creditor. As long as there is an unpaid debt, the original creditor may continue to pursue payment.
Once a collection agency receives your Cease and Desist letter, they are allowed to communicate with you once more to inform you of what actions will be taken next.
File Chapter 7 or Chapter 13 Bankruptcy:
The best way to Stop Bill Collectors is to eliminate debt by filing bankruptcy.
Depending on your situation, you can file either Chapter 7 or Chapter 13 and once filed, the collections should cease.
If you continue to receive calls from creditors after filing for bankruptcy, you can report those agencies to the Federal Trade Commission because they are in violation of the FDCPA.
The Indianapolis bankruptcy attorneys of Sawin, Shea and Des Jardines, LLC can help you stop harassing calls and letters from creditors and can help you eliminate debt and get back on your feet financially. If you are struggling to make ends meet or having issues paying all of your bills on time, contact Sawin Law at (317) 759-1483 for a free consultation with one of our expert bankruptcy attorneys. Find out how we can help you Stop Bill Collectors and get your privacy back!
About the Attorneys
Andrew Sawin received his Bachelor of Arts degree from Indiana University in 1989 and his Doctor of Jurisprudence from Indiana University School of Law – Indianapolis in 1995. He has concentrated his practice in the field of Consumer Bankruptcy for the past 15 years.
Richard Shea graduated from California State Polytechnic University, Pomona with a Bachelor of Science degree in Hotel & Restaurant Management in 1995 and received his Doctor of Jurisprudence from Indiana University School in 1998.
Larry Des Jardines graduated Summa Cum Laude with a Doctor of Jurisprudence degree from Indiana University School of Law. Larry is a member of the Indianapolis Bar Association, the Indiana State Bar Association, the American Bar Association and the National Association of Consumer Bankruptcy Attorneys.