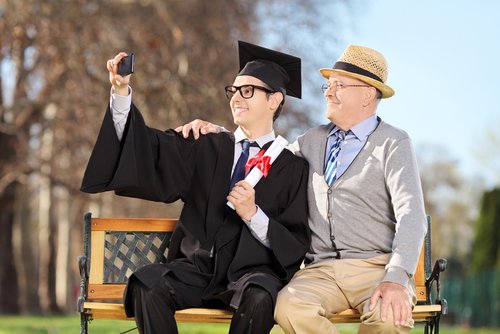 As of 2016, the total amount of loan debt for students and their parents is $1.35 trillion; an amount that sadly increases by $2,726 every second. The average debt young adults have after graduation is $29,000. With Federal student loans capped and college expenses continuously rising, a gap is left uncovered. Parents often step in and take out loans to cover some or all their child's college tuition. By doing this they open themselves up to potential financial difficulties.
Can My College Tuition Loan Debt Be Discharged in Bankruptcy?
It depends on the type of loan and whether the person filing passes one of two tests: the Brunner Test or the Totality of the Circumstances Test. These are used to determine if repayment is an undue hardship on the person filing. Unfortunately, the courts have been reluctant to forgive student loans. Recent bankruptcy trials for parents who are in debt due to college loans are challenging this precedent.
How Could My Credit Be Affected by a School Loan Default?
If your child defaults on a school loan that you co-signed, the student's credit rating certainly suffers. However, because your name is on the loan as guarantor, you will assume responsibility for repaying that debt. Your credit will reflect the status of the student loan whether the student defaults or not. Even missed payments by the student have an effect on your credit and can make it difficult for you when applying to refinance your mortgage or to buy a new car.
Can My Wages and Social Security be Garnished for Non-Payment of Student Loans?
Taking out a loan, whether it is a Parent Plus Student Loan or a private one, ultimately is your responsibility to repay. Non-payment will result in creditors pursuing whatever methods they can to get paid.
Will I Lose My Retirement Savings If I Default on a Student Loan?
Traditional and Roth IRAs, 401(k)s, and other tax deferred retirement accounts are protected inside and outside of bankruptcy. However, If you are unable to keep up with payments on a student loan along with your other bills, speak with a bankruptcy professional. While you cannot discharge a Parent Plus Student Loan, you can protect your assets by filing a Chapter 7 or a Chapter 13. Setting up a re-payment plan for the student loan, while other debts are frozen, can give you some relief. Realize that interest will continue to accrue on your loan even while you are in bankruptcy. Continuing to make payments is advised.
Sawin & Shea – Indianapolis Bankruptcy Attorneys
Has financing your child's education leaving you saddled with massive student loan debts? Contact the Indiana bankruptcy attorneys at Sawin & Shea to get the help you need. With years of experience representing good people in bad financial situations, they can answer all your questions. Please do not hesitate to call us today at 317-759-1483 or send an email for a free consultation. We are ready to help.