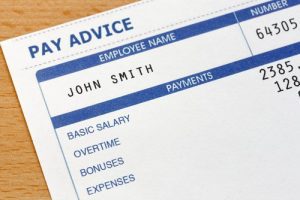 I receive several calls a week from people that are shocked to discover that a big chunk of their paycheck is gone due to a wage garnishment. The good news is that I can generally help them stop the garnishment with either a Chapter 7 or a Chapter 13 bankruptcy. The bad news is that any wages garnished prior to getting a bankruptcy case on file with the Court is gone for good.
Indiana law allows a creditor with a judgment and a Garnishment Order from the Court to take up to 25 percent of a person's disposable income. The law describes disposable income as the gross (total) income minus any deductions required by law. This is generally the gross income minus taxes only. Although possible, the Court rarely takes into consideration other voluntary wage deductions, household expenses, or other factors when issuing Indiana Garnishment Orders. The garnishment is almost always for the maximum amount. This loss of income can have a devastating effect on individuals and families.
The best time to look into dealing with the debt issues that lead to wage garnishments is before you are sued in Court or very shortly thereafter. Talking with an experienced bankruptcy attorney before a wage garnishment starts can save you hundreds, if not thousands of dollars. If you are currently suffering a wage garnishment after getting sued on debt do not despair. Bankruptcy can stop most wage garnishments at any point. The sooner you take action, the sooner those funds can be available to you and/or your family.
Please feel free to call us now at 317-759-1483 or send us an email to schedule a free consultation with an attorney to review your personal situation.
About the Attorneys
Andrew Sawin received his Bachelor of Arts degree from Indiana University in 1989 and his Doctor of Jurisprudence from Indiana University School of Law – Indianapolis in 1995. He has concentrated his practice in the field of Consumer Bankruptcy for the past 15 years.
Richard Shea graduated from California State Polytechnic University, Pomona with a Bachelor of Science degree in Hotel & Restaurant Management in 1995 and received his Doctor of Jurisprudence from Indiana University School in 1998.
Larry Des Jardines graduated Summa Cum Laude with a Doctor of Jurisprudence degree from Indiana University School of Law. Larry is a member of the Indianapolis Bar Association, the Indiana State Bar Association, the American Bar Association and the National Association of Consumer Bankruptcy Attorneys.