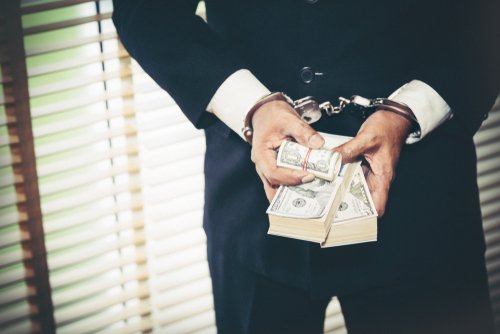 If you've been convicted of embezzlement fraud or a court has awarded money to someone as compensation, bankruptcy might not accomplish what you're hoping for: getting out of debt. It depends on your specific situation and what happens immediately after you file. Bankruptcy does not wipe out all debts, although it still may be helpful for your long-term financial picture. Learn how embezzlement can affect your decision to file for bankruptcy.
Does Bankruptcy Eliminate Embezzlement Debt?
Maybe yes, maybe no. It depends on the type of debt that is incurred as a result of the embezzlement. If you are convicted of a crime and owe restitution or criminal fines, those debts can't be discharged by bankruptcy. You must pay them or face additional penalties. If your debt comes as a result of a civil case – and you aren't convicted of a crime – it may qualify for discharge during bankruptcy. However, the person who is owed the debt can try to take steps to ensure you still owe it, even after you declare bankruptcy.
How Can Someone Stop the Debt from Being Eliminated?
If the person to whom the money is owed acts quickly, they may be able to prevent your embezzlement-related debt from being discharged by bankruptcy. Within 60 days of the first meeting of creditors date set in your bankruptcy they can file an adversary proceeding, which is a type of lawsuit that challenges your ability to eliminate the debt. The Bankruptcy Court will decide. If the court declares that your embezzlement debt is non-dischargeable, it will never be wiped out until you pay it.
How Does the Court Decide Who's Telling the Truth?
If you disagree with the person who says you owe them money – and in this situation, you likely do – the bankruptcy trustee will use a process of discovery to conduct interviews, acquire documentation and perhaps request testimony in court. The trustee presents information to the civil court, where the judge will evaluate the facts, ask additional questions, and make a judgment. During this process, if the trustee or the judge suspects a criminal act has taken place, they can make a referral to the State Attorney or even the FBI for further investigation.
If Bankruptcy Won't Wipe Out My Debt, What Can I Do?
Whether the matter is criminal or civil, it can impact your financial future. Bankruptcy might not eliminate your embezzlement or fraud debt, but it can still provide a huge help in getting you back on your feet. You might be able to avoid paying medical bills or credit card bills that are weighing you down and making you unable to pay off a court judgment. Further, a Chapter 13 reorganization plan may be able to force a more affordable payment plan for a period, even if it does not result in the discharge of that particular debt. A bankruptcy attorney can help you understand your total financial picture, beyond just the embezzlement issue, so you can confidently take the best path forward.
Sawin & Shea – Indianapolis Bankruptcy Attorneys
Filing for bankruptcy is not the end. It's the beginning of a new financial life for you. The Indiana bankruptcy attorneys at Sawin & Shea can help you get rid of the overwhelming debt and advise you on life after bankruptcy.  We are here for you during this life-changing process. Please do not hesitate to call us today at 317-759-1483 or send an email for a free consultation. We are ready to help.