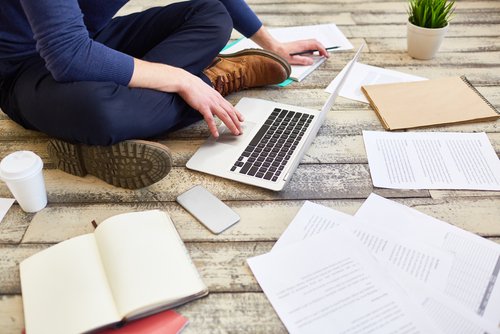 Filing for bankruptcy requires a proactive mindset. It's not something that happens to you, it's something you make happen. That's why it's important to prepare for bankruptcy and ensure you're ready for everything to come. You'll need to educate yourself about bankruptcy terms, fill out specialized forms and decide between Chapter 7 and Chapter 13 filing. The more prepared you are for the bankruptcy process, the easier and faster it will be to get back on the road to financial stability.
What's the First Step in Preparing for Bankruptcy?
Start off on the right foot by getting reliable advice about the bankruptcy process. While your friends and family may share their opinions with good intentions, there's no substitute for the legal advice of a reputable bankruptcy attorney. A bankruptcy attorney is educated on the detailed ins-and-outs of bankruptcy preparation and can help you avoid mistakes and confusion in filing. For example, do you know that to file a Chapter 7 you'll need to pass an income based "means test" to determine whether you even qualify for Chapter 7 bankruptcy? This is a key decision factor in choosing Chapter 7 versus Chapter 13, which affects the entire process.
What are Some Common Pitfalls When Preparing for Bankruptcy?
As you prepare for bankruptcy, watch out for risks that can complicate the process. First, it's very important to watch the amounts of money in your banking and other financial accounts at the time of filing. If the bankruptcy trustee seizes money in your accounts, it could cause a big problem – especially if you've written outstanding checks. Work with your bankruptcy attorney to maintain control of your accounts. Also, beware of bank set-offs, which allow your bank to automatically deduct amounts from your account that you owe on loans. A similar situation can also occur with utility companies, which may deplete a deposit amount to cover balances due – however, by law, utility companies can't cut off your services if you fail to pay during the protected period of bankruptcy. 
Should I Stop Making Payments, Since I'm Going to File for Bankruptcy?
This is a very common question, but the answer isn't simple. It depends on the type of debt you have, how soon you're going to file, and whether you'll be going with Chapter 7 or Chapter 13. Certain types of debt can't be erased by bankruptcy – like child support or alimony payments, student loan debt and some back taxes. Continue to pay down those debts. But for things like medical bills, credit cards and unsecured loans, continuing to pay at this point may be a waste of money. If you have automatic payments coming out of your bank account, talk to your attorney about stopping those. For secured loans, like mortgages and car loans, it depends on whether you want to keep the property and how you plan to file. Get legal advice on which payments you should continue to make as you file for bankruptcy, because each situation is unique.
How Do I Notify Companies That I'm Filing for Bankruptcy?
In general, it's okay to let creditors know you have hired an attorney to file for bankruptcy. As soon as you have filed and have a bankruptcy case number from the court, you can certainly let creditors know you have filed. If they call more than once, contact your attorney right away. At that point, your status of being in bankruptcy requires creditors to stop phone calls and collections efforts. They will be forced to play by the rules of bankruptcy. Your bankruptcy attorney can guide you through the notification process to ensure that it results in the best financial picture possible for your future.
Sawin & Shea – Indianapolis Bankruptcy Attorneys
Filing for bankruptcy is not the end. It's the beginning of a new financial life for you. The Indiana bankruptcy attorneys at Sawin & Shea can help you get rid of the overwhelming debt and advise you on life after bankruptcy.  We are here for you during this life-changing process. Please do not hesitate to call us today at 317-759-1483 or send an email for a free consultation. We are ready to help.