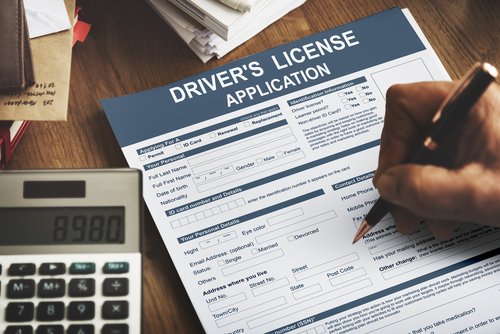 Are you surprised when law enforcement or the motor vehicle department takes your driver's license away? Are you having difficulty getting it back? Drivers can lose their licenses for a wide variety of reasons, including unpaid traffic tickets, building up too many points on your license, not having insurance, forgetting to renew it or simply having inaccurate information in the DMV's records. In some jurisdictions, you can even lose your license for owing unpaid child support or back taxes. Whatever the reason, bankruptcy can make a positive impact on your financial situation, which can lead to getting your license back more quickly.
How Does Bankruptcy Affect the Status of My Driver's License?
When you lose your license due to an issue like unpaid traffic tickets, the court is withholding your license so you'll pay the money you owe. Perhaps the total amount is too large or you disagree that you owe it in the first place. Unfortunately, the reasons don't matter to the Department of Motor Vehicles (DMV) and the courts. They simply want you to clear up the debt. Filing for bankruptcy may not directly discharge your unpaid traffic tickets but it can free you from other debts so you have the money available to pay traffic fines.
In circumstances where a creditor collecting for debt owed due to a no-insurance accident, a bankruptcy can discharge the liability on the debt. Once the liability on the debt is discharged, the BMV can reinstate your licence.
To Get My License Back, Which Filing Should I Choose: Chapter 7 or Chapter 13?
It depends on your situation. Chapter 7 bankruptcy can't wipe out traffic fines, but it can still help. It either eliminates your debts entirely or turns your assets into cash that repays them. This means you can focus on the issues that are preventing you from getting your license back. Chapter 13 allows you to directly discharge certain traffic fines and fees, depending on factors like the amount of the debt and whether it is civil or criminal. Even if Chapter 13 can't discharge your traffic fines, it allows you to create a structured repayment plan that will lead to getting your license back.
What if I Have a DUI?
A bankruptcy can't help you get your license back in all situations. It usually applies only to non-criminal matters like unpaid fines. When you have a criminal conviction like a DUI or Driving Under the Influence, the courts are much stricter. A judge may rule that you won't be able to get your driver's license back until you have performed community service or completed a substance abuse program. These restrictions go beyond what a bankruptcy can do to help your situation. However, you may still want to file for bankruptcy to erase other debts and set yourself up for a better financial picture going forward.
After Filing for Bankruptcy, What's the Next Step to Getting My License Back?
You won't get your license back automatically after filing for bankruptcy. It will take some time for the bankruptcy trustee to sort through your financial situation and see where things stand. After your bankruptcy plan is approved by the court, your financial picture will start to clear. When your debts are cleared, you'll need to apply to the Indiana BMV (Bureau of Motor Vehicles) or your state's department of motor vehicles, to reinstate your license. In some cases, your license may continue to be suspended for 90 days to one year, even after you have paid what you owe. That's a good reason to pursue bankruptcy as quickly as possible and get yourself back on the road to a brighter financial future.
Sawin & Shea – Indianapolis Bankruptcy Attorneys
Filing for bankruptcy is not the end. It's the beginning of a new financial life for you. The Indiana bankruptcy attorneys at Sawin & Shea can help you get rid of the overwhelming debt and advise you on life after bankruptcy.  We are here for you during this life-changing process. Please do not hesitate to call us today at 317-759-1483 or send an email for a free consultation. We are ready to help.