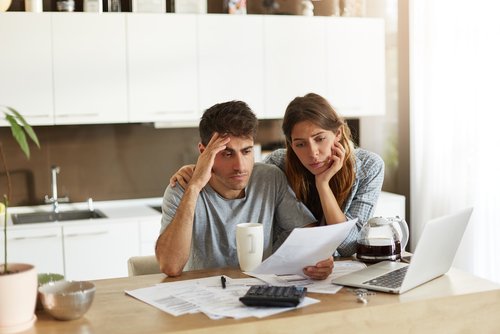 Spending three to four months going through Chapter 7 bankruptcy can be an emotional roller coaster for the filer. You wonder when you will ever get your life back on an even keel. If you are worried that your credit will be ruined forever, we can tell you it will not be. In fact, for many people with bad credit already, fiiling a bankrutpcy can start making your credit better right away! Also, by following a few simple guidelines, you can easily rebuild your credit after bankruptcy. A bankruptcy attorney can help you plan what steps to take after your case is discharged.
Will it Take Long to Rebuild My Credit?
You will start receiving credit card offers soon after your discharge. Be sure to read the fine print. These cards will come with low limits, high-interest rates, and possibly annual fees. Sometimes, you may have to start with a secured credit card. Make sure that any credit account that you get after bankrutpcy reports to the credit reporting agencies. It is important to use the card, and pay it off regularly. Carrying to high of a balance on credit cards can negativly effect your credit.
Do I Have to Attend Credit Counseling?
A pre-discharge credit counseling session is required when you go through bankruptcy. You learn how to establish a budget and avoid falling back into bad habits. The course explains ways to improve your credit score.
Should I Pull My Credit Report After My Case is Discharged?
Bankruptcy does not wipe your report clean. Once your bankruptcy case is discharged, check credit reports from all three of the big financial bureaus. The accounts listed in your bankrutpcy should show as discharged in bankrutpcy. Look for any mistakes and promptly correct them through the dispute process. Contact Sawin & Shea LLC if the erroneous information continues to appear after a dispute. Negative information on the report from before the bankruptcy case eill still appear and remain for seven years.
6 Improvements for Raising Your Financial Profile After Bankruptcy:
Create a Budget –

Use what you learned in credit counseling. Establish a game plan and stick to it.

Review Your Spending Habits

– You want to avoid going down the same road that caused you to file for bankruptcy.

Build an Emergency Fund

– Even as little as $250 set aside can help offset unexpected expenses and keep you from running up debt.

Use Secure Loans or Secure Credit Cards

– Usually offered through credit unions and community banks, you must deposit money into an account to serve as collateral for the loan or card.

Keep Card Balances Low

– Try to keep no more than 10% of your credit limit on your card from month to month.

Pay On Time and In Full

– Show you can handle your money responsibly by paying the card off in full each month.
Sawin & Shea – Indianapolis Bankruptcy Attorneys
Filing for Chapter 7 or Chapter 13 is emotionally draining but something you will live through. Understand what your options are for bankruptcy by contacting the Indiana bankruptcy attorneys at Sawin & Shea. With years of experience representing good people in bad financial situations, we can answer all your questions. Please do not hesitate to call us today at 317-759-1483 or send an email for a free consultation. We are ready to help.