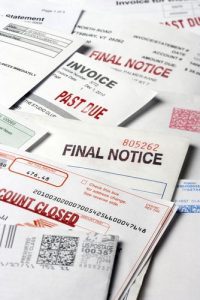 Often, the first question a new client has for me is regarding what types of debts can be discharged or eliminated in a bankruptcy. Many times this question arises because they heard things like "medical bills can't be discharged" from a friend, family member, or at work. Medical bills most definitely can and will be discharged in a bankruptcy. Needless to say this information can be way off base.
Most debts are discharged or eliminated by bankruptcy. I typically tell my clients that it is much easier for me to tell them what types of debts I cannot help them get rid of in bankruptcy. Here is a short list of the most common debts that survive bankruptcy.
Student Loans
Student loans are only discharged in cases of extreme hardship. There must be a separate legal process filed in the bankruptcy case to determine whether a person's circumstances are dire enough for them to be discharged. We can delay the payment of student loans in a Chapter 13 bankruptcy, but usually they are ultimately not discharged.
Certain Taxes
Some older income taxes may get discharged in bankruptcy. Income taxes due in the three years prior to filing, tax liens, and other types of taxes such as withholding or sales tax may not get discharged. A benefit of Chapter 13 bankruptcy is that we can deal with taxes and tax liens that would survive a Chapter 7 as part of a reorganization plan. There are many complex factors that must be considered in the determination of whether taxes can be discharged. An experienced bankruptcy attorney can help you determine if your taxes are dischargeable.
Child Support, Alimony, or Spousal Maintenance
These debts are not dischargeable in any bankruptcy no matter the circumstance.
Marital Debts
Debts that can affect an ex spouse that you were ordered to pay in your divorce are not dischargeable in a Chapter 7 bankruptcy. However, these debts can be discharged in a Chapter 13 bankruptcy.
Debts for Fines and Penalties Owed to Governmental Units and Criminal Restitution
This includes traffic tickets and other debts arising out of criminal prosecution or government fines.
Condominium or Home Owners Association Dues Incurred After the Filing of Your Bankruptcy
The association can charge you any fees or dues that come due after the filing of your bankruptcy while you still have a legal or equitable interest in the condo or home.
There are other types of debts that may not be discharged in a bankruptcy case if the creditor comes forward and gets a ruling from the bankruptcy Judge declaring the debt not discharged. This can happen in cases of debts incurred by fraud, wrongful death or injury caused by the operation of a motor vehicle while intoxicated, willful or malicious injury, embezzlement, or theft. If you have a question about whether your debts can be discharged in bankruptcy please consult with an experienced bankruptcy attorney.
Please feel free to the Indianapolis bankruptcy attorneys of Sawin Shea & Des Jardines now at 317-759-1483 or send us an email to schedule a free consultation with an attorney to review your personal situation.
About the Attorneys
Andrew Sawin received his Bachelor of Arts degree from Indiana University in 1989 and his Doctor of Jurisprudence from Indiana University School of Law – Indianapolis in 1995. He has concentrated his practice in the field of Consumer Bankruptcy for the past 15 years.
Richard Shea graduated from California State Polytechnic University, Pomona with a Bachelor of Science degree in Hotel & Restaurant Management in 1995 and received his Doctor of Jurisprudence from Indiana University School in 1998.
Larry Des Jardines graduated Summa Cum Laude with a Doctor of Jurisprudence degree from Indiana University School of Law. Larry is a member of the Indianapolis Bar Association, the Indiana State Bar Association, the American Bar Association and the National Association of Consumer Bankruptcy Attorneys.