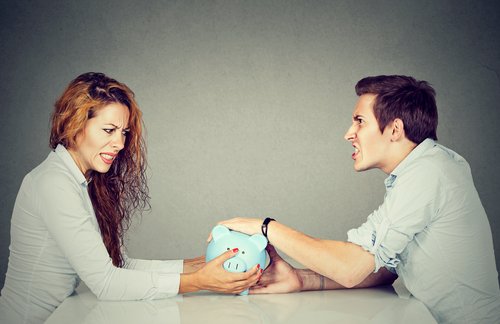 Many couples going through divorce find filing for joint bankruptcy can often alleviate some of the issues causing their marital friction. How you and your ex-spouse work together will determine how a joint Chapter 13 bankruptcy can proceed. Talk with the lawyer handling your joint bankruptcy case early.
How Can Divorce Disrupt a Joint Chapter 13 Bankruptcy?
Divorce settlements entail dividing assets that are currently part of your Chapter 13 estate. Things like the transfer of property (requires filing a petition with the bankruptcy court) take on a different level of complexity. When you file for bankruptcy, the Court and Trustee have an interest over your non-exempt assets, which may affect the division of  material possessions. Your Chapter 13 plan payment is also based on the expenses of a single home. Running two households may make it more difficult to meet your monthly repayment commitment. Both of you must make half of the payment. An amicable divorce can make it easier to continue the joint bankruptcy.
What if the Primary Debt Belongs to One Spouse?
If you are the reason the credit cards are maxed out, your ex-spouse may not be willing to help you discharge all of this debt, only their part. Discuss this early with your joint bankruptcy attorney. They can help you decide how to modify, change or dismiss your current case.
What if Our Divorce is Not Amicable? How Will the This Affect Our Case?
First, your lawyer recuse themselves from your case. They cannot represent two clients with conflicting interests. It means both of you are searching for new lawyers while keeping up the monthly payments on the joint case. Chapter 13 is typically a three-to-five-year process. If you are not in complete agreement about the joint bankruptcy terms, consider abandoning it. Discuss this with your new attorney.
What Are the Options for Changing Our Joint Case?
Modify the Repayment Plan – You may file a motion to lower the plan. It is contingent on you and your spouse agreeing on how the Chaper 13 plan payments are going to get made. The Court will take into consideration that there are now two households.
Convert to a Chapter 7 Liquidation Bankruptcy – The reasons for filing for Chapter 13 may no longer exist, such as keeping a house from foreclosure. Chapter 7 is a quicker way of resolving debts (three to four months). It allows you to move forward sooner.
Bifurcate or Spilt the Case -Your lawyer can petition the Court to divide the case into two new Chapter 13 filings. You will both need new attorneys, but you are now only responsible for your monthly repayment amount. If at any time, you or your spouse no longer want to participate, there are ways of getting a Chapter 13 case dismissed.
Sawin & Shea – Indianapolis Bankruptcy Attorneys
Contact the Indiana bankruptcy attorneys at Sawin & Shea if you need a new attorney to take over your portion of a Chapter 13 joint filing. We can help you get your bankruptcy back on track and advise you on whether converting to Chapter 7 is now your best option. We are here for you during this life-changing process. Please do not hesitate to call us today at 317-759-1483 or send an email for a free consultation. We are ready to help.