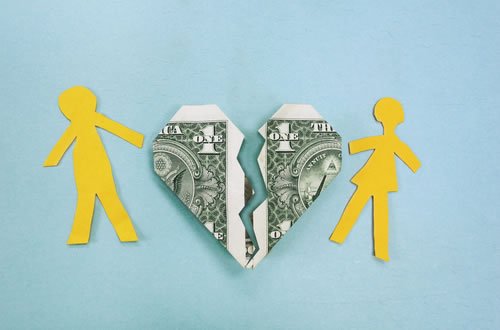 We all enter into marriage with the highest of hopes. A significant number of those marriages will not make it in the long run. It has been widely reported that approximately 40 to 50 percent of marriages end in divorce. Adding to the heartbreak of divorce is often crippling financial problems. We see clients every week that have questions regarding what can be done regarding the debt associated with divorce.
Divorced Couple Need to Understand Bankruptcy Law
The first thing that a divorcing couple should realize is that a divorce order or decree ordering one spouse or the other to pay a particular joint debt has no effect on the creditor's right to collect from both. For example if a court orders husband to pay for a car financed jointly, the finance company can still go after the wife if he defaults on the loan. The wife, if she pays the debt, would be able to sue her ex-husband in family law court. However, she would then have to pay an attorney to enforce this provision of the divorce settlement agreement or court order. This can be a frustrating and expensive process, not guaranteed to result in reimbursement. In this situation, it may be more prudent to contact an experienced bankruptcy attorney, before paying the debt, to discuss ways to seek discharge of the obligation.
File Bankruptcy Jointly Before Divorce?
We are often approached by couples contemplating divorce. If the couple can agree as to the direction and disposition of the bankruptcy case, filing a joint bankruptcy case prior to a divorce becoming final can have some advantages. It is certainly not always prudent or even possible to do this. However, in the circumstances where a divorcing couple can cooperate, a pre-divorce bankruptcy can simplify the divorce process. An experienced bankruptcy attorney can help to explain the potential pitfalls and rewards of a pre-divorce bankruptcy filing.
Bankruptcy Does Not Eliminate Child Support
After a divorce becomes final, an individual may have significant financial problems because they now live in a one income household. Debts left over from the marriage, increases in household expenses, and child support or spousal maintenance can add to that burden. Child support and other domestic support or maintenance ordered by a court can never be eliminated by filing bankruptcy. However, a person can eliminate other debts in a bankruptcy and thereby make it easier to deal with the obligations that remain. The kind of debt you have will determine what kind of bankruptcy you should file. Debt that belongs only to you can be eliminated in a Chapter 7 bankruptcy, but debt for both of you or debt for your spouse that you were ordered to pay for in the divorce settlement can only be taken care of by a Chapter 13 bankruptcy. An experienced bankruptcy attorney can help financially strapped, recently divorced individuals reorganize their debt under U.S. Bankruptcy Court protection and help significantly reduce financial issues caused by divorce.
Sawin & Shea – Indianapolis Bankruptcy Attorneys
Regaining financial independence is an important first step in repairing the damage done by divorce. The Indiana bankruptcy attorneys at Sawin & Shea have years of experience representing good people in bad financial situations caused by divorce. Please do not hesitate to call us today for a free consultation at 317-759-1483. We are ready to help.