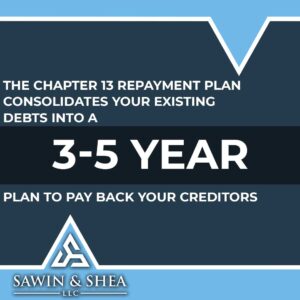 Filing for Chapter 13 bankruptcy can help you improve your financial situation. The Chapter 13 repayment plan consolidates your existing debts into a three to five-year plan to pay back your creditors, and initiating the process offers immediate protections, including an automatic stay, and allows you to keep all of your possessions.
Unfortunately, not everyone filing Chapter 13 will complete the repayment process. If the bankruptcy court has your Chapter 13 bankruptcy dismissed, you'll need to refile or find another method for overcoming your debts, such as Chapter 7 bankruptcy. Here's what you need to know about refiling and overcoming a dismissed bankruptcy.
Bankruptcy Discharge vs Dismissal
Although discharge and dismissal are two drastically different outcomes in a bankruptcy case, some confuse and conflate the terms.
A bankruptcy discharge refers to unloading debts after liquidating assets or paying off a repayment plan. When filing for Chapter 13, debtors don't immediately discharge their debts. Instead, they discharge their eligible debts upon completion of the three to five-year repayment plan. That said, filers cannot discharge all of their debts through Chapter 13.
Some debts you cannot discharge include:
Some long-term obligations, such as home mortgages
Certain types of taxes
Government-funded or backed education loans
Debts owed for alimony or child support
Damages caused by the filer if they drove under the influence of drugs or alcohol, such as personal injuries or wrongful death
Criminal fines or debts related to restitution after being convicted of a crime
What is a Bankruptcy Dismissal?
Bankruptcy dismissals have nothing to do with unloading debts. A dismissal means that the bankruptcy court canceled a debtor's bankruptcy filing.
The two types of dismissals are voluntary and involuntary. If you request for the bankruptcy court to dissolve your case, your bankruptcy filing was voluntary, but if the court threw out your case without your input, it's involuntary.
Some common reasons why bankruptcy courts dismiss Chapter 13 bankruptcies include:
Filers not proposing a Chapter 13 repayment plan that's in accordance with bankruptcy law
Not undergoing sufficient debt and credit counseling
Failing to meet deadlines
Ceasing to pay alimony or child support
Not attending the 341 meeting of creditors
Failing to make on-time payments toward a repayment plan
Not submitting the required paperwork to the bankruptcy trustee or submitting incorrect information
Not paying court fees
Failing to file tax returns and submit them to the bankruptcy trustee
Dismissal with Prejudice
When a bankruptcy court dismisses your case, it will either be with or without prejudice. The majority of cases are dismissed without prejudice, and this is typically the case when a filer makes a mistake on their paperwork or doesn't yet meet all filing requirements.
A dismissal with prejudice indicates that the court mistrusts the filer in some way. They may suspect that the debtor committed fraud or tried to deceive the court or their creditors in another way.
For example, if a person takes on additional loans or other forms of dischargeable debt right before filing, the court may suspect that the filer took on that debt in bad faith and never intended to pay it. Courts can punish this behavior by dismissing a case with prejudice, making it harder for the debtor to refile.
Consequences of a Bankruptcy Dismissal
If the court dismisses your Chapter 13 bankruptcy, you may face immediate consequences depending on the severity of your financial situation, including:
Inability to discharge debts: If you fail to complete your Chapter 13 repayment plan, you won't be able to discharge your debts.
Removal of your automatic stay protection: You'll no longer have protection from your creditors, potentially leaving you vulnerable to wage garnishment, debt collection lawsuits, repossessions, and foreclosures.
You'll lose desirable repayment options: Chapter 13 repayment plans can lower your debt interest rates or reduce the principal amount you owe for collateral. After your bankruptcy dismissal, you'll lose access to these more desirable repayment options.
Fortunately, you can regain these benefits and protections once you refile.
How Long Do I Have to Wait After a Chapter 13 Bankruptcy Dismissal to Refile?
The amount of time you must wait to refile will depend on whether your bankruptcy filing was dismissed with or without prejudice. In the event that your bankruptcy was dismissed without prejudice, as is the case with most dismissals, you can refile immediately. This is very common for those who accidentally make errors when filing their paperwork or fail to meet certain qualifications. One exception is that if you attempt to file bankruptcy multiple times within a short period, the bankruptcy court may force you to wait before attempting to file again.
If the court dismisses your filing with prejudice, you'll likely have to wait a predetermined period before attempting to file again, and this is up to the court's discretion. The amount of time that debtors have to wait is usually between six and twelve months, but some are able to refile after only three months. Additionally, you may not be able to discharge certain debts in the future if the court dismisses your bankruptcy with prejudice.
Contact an Indiana Chapter 13 Bankruptcy Lawyer
If the court dismissed your Chapter 13 bankruptcy, you have the option to refile, but it's important to recognize that if your situation hasn't changed dramatically, you'll likely struggle to receive approval during your second attempt.
Fortunately, you don't have to go through the process alone — you can contact a team of Indiana Chapter 13 bankruptcy attorneys who can help you navigate the complexities of filing. Our team at Sawin & Shea, LLC will work with you to find your best financial option moving forward, whether it means refiling for Chapter 13, filing for Chapter 7, or filing an appeal. Contact our seasoned lawyers today at 317-759-1483, or you can schedule a FREE consultation online here.