Divorce is never easy. The dissolution of a marriage can create intense emotional stress for both separating parties. These challenges can be even more difficult if you're facing financial hardships.
These financial challenges often worsen with divorce because the income of one household splits between two divorcees. If you depend on your former spouse's income, you may struggle to make ends meet once you rely solely on your money as well as any alimony or child support payments.
Because so many struggle financially after divorce, it's common for individuals to declare bankruptcy before or after their marital dissolution. Here's what you need to know about bankruptcy and divorce.
Going Through a Bankruptcy During Divorce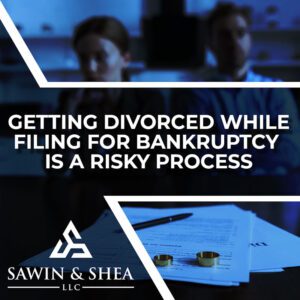 Going through a divorce during Chapter 13 or Chapter 7 bankruptcy can be a risky process and is generally not advisable, as doing both at the same time can be financially complex. 
Dividing assets and property during a divorce can be difficult and may require the assistance of a mediator or attorney. Filing for bankruptcy adds another layer of complexity, as the division of property and debts will need to be coordinated with the bankruptcy process.
Your divorce proceedings will likely delay your bankruptcy case, and even if you file for bankruptcy and divorce at the same time, you'll probably not be able to finalize both within a reasonable timespan. For example, the bankruptcy court may delay proceedings until you and your spouse work out the details of the divorce, such as the allocation of debts and assets as well as alimony and child support payments.
Generally, bankruptcy and divorce proceedings will conflict with one another and cause delays, making both processes all the more stressful, time-consuming, and financially draining.
Should I File Bankruptcy Before or After Divorce?
Whether or not you should wait until after your divorce to declare bankruptcy will depend on the type of bankruptcy, your debts, your financial situation, and your relationship with your soon-to-be ex-spouse.
Declaring Bankruptcy Before a Divorce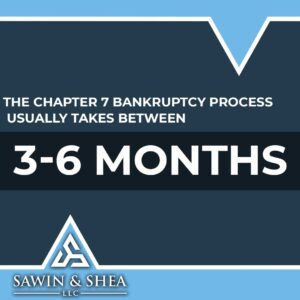 If you're on good terms with your spouse and are struggling with unsecured debts, you may want to consider filing Chapter 7 bankruptcy before your divorce. The Chapter 7 bankruptcy process usually takes between three and six months and will eliminate eligible unsecured debts, such as personal loans, credit card debts, and medical debts. 
When you file for Chapter 7 bankruptcy jointly with your spouse, you'll only need to pay for bankruptcy fees once as opposed to paying for separate bankruptcies. This can also simplify the divorce process because you won't have to divide your unsecured debts when going through dissolution proceedings.
Additionally, filing for bankruptcy before a divorce can save you the headache of dealing with creditors in the future. If you're legally responsible for joint debts along with your spouse, creditors can continue pursuing the debt after your divorce. If your ex fails to pay for their portion of the debts, creditors may pursue action against you to recover their money. When you discharge your debts beforehand, you won't need to worry about being financially liable in the future.
Chapter 7 Means Test
For you and your spouse to qualify for Chapter 7, you'll need to undergo the Chapter 7 means test. The first step of the means test is comparing your joint income with the average two-member household. You average your joint monthly income based on the last six months then multiply that average by 12. If your joint annual income is over $51,926, you'll need to calculate whether you have enough disposable income to realistically pay off your debts through a Chapter 13 repayment plan.
If you project to have less than $7,475 in disposable income over the next 60 months, you will still qualify for Chapter 7, but if you have over $12,475, you will not qualify. Those with between $7,475 and $12,475 of disposable income will need to conduct further calculations, and you may want to contact a Chapter 7 bankruptcy attorney to assist you through the process.
Declaring Chapter 13 Before a Divorce
Although filing Chapter 7 bankruptcy before a divorce can help you with your financial situation, Chapter 13 can make the divorce process all the more frustrating. Filing through Chapter 13 means that you and your spouse will need to complete a three- to five-year repayment plan before discharging your eligible debts. Unless you want to delay your divorce for over three years, you should steer clear of this option.
Declaring Bankruptcy After a Divorce
In order to file for bankruptcy jointly with a spouse, you'll need to be on good terms and able to work with them to go through the bankruptcy process. Unfortunately, not all relationships end amicably, and you may not want to file alongside your soon-to-be ex-spouse.
Fortunately, bankruptcy still offers tremendous financial benefits after you finalize your divorce.
Filing for Chapter 7 is a valuable option for those who have unsecured debts, and you might pass the means test after your divorce because you no longer have your ex-spouse's income. If you still have unsecured joint debts with your ex-spouse, going through Chapter 7 will discharge your liability for the debt, but your former spouse will still be financially responsible unless they also discharge it through bankruptcy.
If you still don't pass the Chapter 7 means test or if you're behind on repaying your secured debts, such as a home mortgage or car lease, Chapter 13 may be your best option. As we mentioned above, Chapter 13 involves consolidating your existing debts into a realistic three- to five-year repayment plan. Although the process takes much longer than Chapter 7, you'll receive an immediate automatic stay, meaning that your creditors can't take action against you, such as repossessing collateral and garnishing your wages.
Contact Indiana Bankruptcy Attorneys
Declaring bankruptcy is almost always a complex process, and it can be all the more challenging if you're also navigating a divorce. Whether you're considering filing before or after your divorce, you can untangle the intricacies of the bankruptcy process by contacting Sawin & Shea, LLC. Our Chapter 7 and Chapter 13 bankruptcy attorneys can advise you and help you determine which form of bankruptcy is best for your financial and marital situation.
Get a FREE consultation today by calling 317-759-1483, or you can schedule your consultation online here.