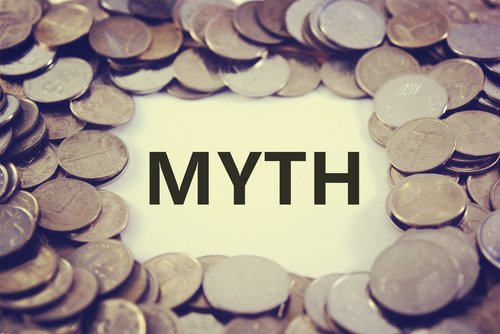 If you're considering bankruptcy, certain myths about filing may be holding you back. You might be confused about what bankruptcy means or uncertain how the process unfolds. Don't let these concerns keep you from finding a path to a new financial future. Let's look at some common misconceptions about bankruptcy and the truth behind them.
Will Everyone Know I'm Declaring Bankruptcy?
This is a great question, and you're going to like the answer. The truth is, your friends and family won't know that you're filing for bankruptcy unless you tell them. When you file for bankruptcy, the only people notified are your creditors – the people to whom money is owed. Bankruptcy filings are no longer published in local newspapers or other media outlets. Also, certain laws protect you in this situation. For example, an employer can't fire or demote you based on your bankruptcy status – and if they do, they could be subject to a lawsuit.
When I Get Married, Will Bankruptcy Ruin Our Credit?
It's common to wonder what will happen to your current or future spouse's credit if you file for bankruptcy. Although many married people file taxes jointly and share debts, filing for bankruptcy only affects the credit of the person that files. If you file, the credit ranking for your spouse will not be affected – now or ever. Bankruptcy shouldn't impact your plans to get engaged, get married or even get divorced. All of these situations can be handled smoothly with the help of a bankruptcy attorney.
Will a Judge Yell at Me?
We can almost guarantee that nobody will yell at you during the bankruptcy process. Everyone involved – from the trustee to court judges – views bankruptcy as a financial issue, not a moral or ethical judgment. Bankruptcy professionals will treat you fairly during the process. Most people who file for bankruptcy never see a judge or even appear in court. A bankruptcy trustee handles your case and you usually just have one short meeting with them. Most of the filing is paperwork and can be handled quickly with information and signatures from you.
Does this End My Hopes for Buying or Renting a Home?
Absolutely not. In some cases, bankruptcy can improve your chances of buying or renting a house, because it cleans up your money problems and leaves you in a better place financially. A mortgage company or landlord would rather see that you dealt with your financial issues proactively and got them resolved, rather than letting them fester and get worse. Talk to a bankruptcy attorney about your desire to buy or rent a home and they'll provide some guidance.
Does Bankruptcy Ruin My Financial Future?
Credit scores tend to improve after bankruptcy, so your future looks brighter than it may look when you're facing unpaid debt. In fact, many people get a big rush of new credit offers after filing, because credit companies know you're in a much better place financially. After your bankruptcy ends, you probably will have no credit card debt, no medical bill balances and no unsecured loans. Your car and house payments will be under control, and the bankruptcy process will have given you 100% clarity about your financial picture. Believe it or not, bankruptcy could be the best thing that ever happens to you.
Sawin & Shea – Indianapolis Bankruptcy Attorneys
Filing for bankruptcy is not the end. It's the beginning of a new financial life for you. The Indiana bankruptcy attorneys at Sawin & Shea can help you get rid of the overwhelming debt and advise you on life after bankruptcy.  We are here for you during this life-changing process. Please do not hesitate to call us today at 317-759-1483 or send an email for a free consultation. We are ready to help.