Declaring bankruptcy can appear incredibly intimidating. Sadly, many people choose not to file due to shame and embarrassment. The truth is that there's nothing wrong with declaring bankruptcy, and it's often the best option for those struggling with overwhelming debt.
If you decide to declare personal bankruptcy, you'll more than likely need to file through either Chapter 7 or Chapter 13, and these types of bankruptcies have different procedures, durations, and results.
In this blog, you'll learn what happens if you file for bankruptcy as well as the difference between filing for Chapter 7 and Chapter 13.
Effects of Declaring Bankruptcy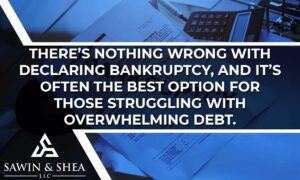 While the exact effects of personal bankruptcy will depend on whether you're filing for Chapter 7 or Chapter 13, you can expect immediate benefits once you file.
Both forms of bankruptcy provide an automatic stay, which is a legal order that protects you from creditors. Once you've filed your bankruptcy petition, creditors will no longer be able to take any action to collect debts against you. They'll be unable to garnish your wages, foreclose on your home, and repossess your belongings. You'll even have protection from collection calls and other forms of aggressive communication.
Additionally, the bankruptcy court will assign a trustee for your case. The exact responsibilities of this trustee will depend on your filing method, but you can expect them to organize a meeting of creditors, which will take place around a month after you file your petition. During this meeting, the trustee will ask you questions under oath regarding your bankruptcy documents. Even though it is called a "meeting of creditors", creditors very rarely show up to ask any questions.
Once you successfully go through the entire bankruptcy process — we discuss the Chapter 7 and Chapter 13 processes below — you will receive a discharge of your eligible debts. The Discharge Order is a legal order from the Bankruptcy Court relieving you of the legal responsibility to pay most types of debts.
What Happens If You File Chapter 7 Bankruptcy?
Chapter 7 is generally what people thing about when they think about bankruptcy, but this method isn't right for everyone. To qualify for Chapter 7, you'll need to pass the income based "means test," which evaluates whether you have enough disposable income to pay off some of your unsecured debts over five years. If you do have enough disposable income under the law, you'll likely need to file Chapter 13 instead.
When you file your Chapter 7 petition, your court-appointed bankruptcy trustee will gain control over your nonexempt assets, and they will sell off certain assets to pay back your creditors. That's why Chapter 7 is commonly known as "liquidation bankruptcy." But contrary to popular belief, the majority of Chapter 7 bankruptcy filers can retain all of their possessions.
Once the trustee completes the liquidation process, your discharge protects you from your remaining eligible debts. It typically takes between four and six months to complete this process.
What Happens If You File Chapter 13 Bankruptcy?
Unlike Chapter 7, Chapter 13 bankruptcy requires debtors to repay some or all of their debts through a repayment plan. In addition to filing your petition, you'll need to create a three-to-five-year repayment plan setting forth how you intend to pay your creditors. The bankruptcy trustee will then assess the plan to ensure that it's reasonable for your creditors and that it aligns with bankruptcy laws.
After the trustee approves your plan, you'll send them monthly payments, and the trustee will then distribute those funds to repay your creditors. Failure to make on-time payments can lead the bankruptcy trustee to file a motion to dismiss your case. If the court dismisses your bankruptcy, you'll once again be vulnerable to aggressive creditors, and you won't be able to discharge your remaining debts.
If you successfully complete your three-to-five-year repayment plan, you'll be able to discharge any remaining eligible debts.
Contact an Indiana Bankruptcy Attorney
If you're considering filing for bankruptcy, you can greatly benefit from contacting a bankruptcy attorney. Chapter 13 and Chapter 7 attorneys have years of experience handling complex bankruptcy cases, and they can simplify the process and help you make good choices.
Here at Sawin & Shea, LLC, we've helped numerous Indiana residents overcome crippling debt, and we can also help you with creditor harassment. With over 75 years of combined experience, we're ready to take on your case to help you become debt-free. You can schedule a FREE consultation with one of our attorneys today by calling 317-759-1483, or you can schedule your consultation online here.