When debt overshadows savings that's scary enough. But for some, it's even more frightening because they are also trying to make payments against astronomical bills, often medical or job loss related that continue to stack up with no signs of stopping.
Declaring Chapter 7 bankruptcy may be the best solution in cases like this. People can get a discharge relating to most types of debts in a perfectly legal and fiscally responsible way, and also get a chance to get a fresh start..
However, there are some consequences of declaring Chapter 7, and it's important to understand that doing so doesn't completely wash away all evidence of the initial situation. There are effects that should be considered, preferably alongside a bankruptcy attorney.
What is Chapter 7 Bankruptcy?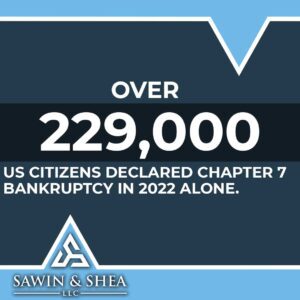 Filing for bankruptcy is more common than you might think. In fact, over 229,000 US citizens declared Chapter 7 bankruptcy in 2022 alone. But what exactly is a Chapter 7 bankruptcy?
In a Chapter 7 bankruptcy, the declarer must liquidate non-exempt assets which are then used to pay creditors in a particular order. However, most Chapter 7 cases are what are called "no-asset" cases and people keep everything they want. In cases where there are non-exempt assets, they are liquidated and the funds are used to pay back creditors a share of what they are owed.
From initial filing to final discharge, filing for a Chapter 7 bankruptcy takes anywhere from three to four months to complete. Some of that time includes mandatory waiting periods as required by law.
What Does Declaring Chapter 7 Bankruptcy Do to My Credit Score?
Once a bankruptcy is filed, that fact becomes part of your credit history. How that affects your credit depends largely on what your credit looks like before you file. If your credit score is very low, filing a bankruptcy can actually improve your credit score. However, if your score is in the normal to high range it will take a hit upon filing a case.
As a result, people who declare bankruptcy often will have a harder time with things like securing a loan or getting a credit card. This often means they'll face steep interest rates and other unfavorable terms to get credit. Credit will be available and the sooner you start using credit again in a wise manner, the quicker you can rehabilitate your credit.
How Long Does a Chapter 7 Stay on Your Record?
A Chapter 7 bankruptcy can remain on your credit report for up to 10 years after the filing date.
This means anyone who pulls your credit report will see a bankruptcy as part of your credit history. However, after the 10 years have lapsed, the bankruptcy will fall off your credit report. This does not mean that credit is not available to you for that period. Doing things that make your credit better post-filing will make your crest better, and you can rehabilitate your credit in a reasonably short amount of time.
How Long Does Bankruptcy Affect Credit Score and How Do I Rebuild My Credit?
While not easy, it is possible to rebuild your credit after declaring Chapter 7 bankruptcy. While the bankruptcy will stay on your credit report for up to 10 years, you can start taking steps to rebuild your credit as soon as your Chapter 7 bankruptcy is discharged.
Here are just a few of the things you can do to help bolster your credit after filing for bankruptcy:
Keep a Close Watch on Your Credit
Staying on top of your credit score can help you see the progress you have made which can be very motivating. Also, frequently checking in on your score allows you to proactively take care of any issues that look like they could have a negative impact on your scores.
On-Time Bill Payments
This one's pretty obvious, but it bears repeating: create a budget for yourself, and more importantly, stick to it! Pay your bills on time and in full. That way you're establishing a positive payment history (which is one of the most important credit score elements).
Avoid Incurring Excessive Debt
While it might be tempting to do things like apply for that department store credit card, bear in mind that accruing new debt can threaten your improving credit score. Not only that, you want to stay away from the spending patterns that led you to bankruptcy in the first place.
Apply for a Secured Credit Card
To obtain a secured credit card, you must first deposit collateral with the lender which makes it less risky for them. Then try to keep the running balance low, and by all means, pay off the balance in full–on time–each month. Make sure that any secured card you apply for reports to the credit reporting agencies. If they don't your hard work maintaining that account in good standing will not improve your credit.
How Can a Bankruptcy Attorney Help Me?
Working with an attorney who knows the intricacies of filing for Chapter 7 bankruptcy is the best move you can make. Filing for Chapter 7 bankruptcy isn't simple and an experienced bankruptcy lawyer can explain each step in terms a layman can understand, and can help you avoid costly mistakes. 
If you still have questions or are wondering how long does a bankruptcy affect your credit score, the Indiana bankruptcy attorneys at Sawin & Shea, LLC can help you navigate the bankruptcy process. If you're considering filing for bankruptcy, call us at 317-759-1483 or request your free consultation online.