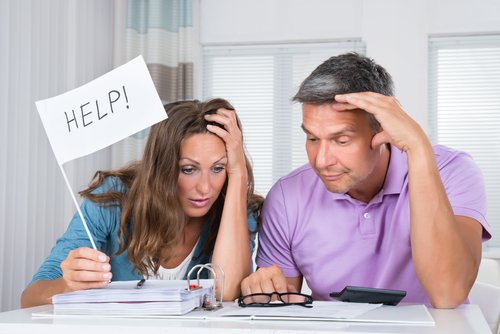 If you're being hounded by creditors for immediate payment on your debt, you could be looking for a fast solution to declaring bankruptcy. In this situation, it's common to wonder whether you can quickly file for bankruptcy electronically through a website to eliminate a growing mountain of debt fast. It's not as easy as it sounds. Bankruptcy is a complicated process. Trying to make a go of it on your own is rife with danger and pitfalls that can put you in a worse position regarding your debt.
Is It Even Possible to Declare Bankruptcy Online?
It is partially possible to file for bankruptcy online. You can start the process by finding the forms online from the Services & Forms page of the United States Courts website and submitting them to the federal bankruptcy court. You will also need to know your local bankruptcy district. But certain parts of the process will need to be handled in person, like paying the local clerk and attending a required class. But again, knowledge of bankruptcy law and the process is a must to avoid problems. A qualified bankruptcy attorney can help you navigate the complicated process of bankruptcy.
What Are the Drawbacks of Declaring Bankruptcy Online?
You may be frustrated to discover that it's very difficult to handle the entire bankruptcy process electronically. Some information can't be accessed or submitted online, depending on your financial circumstances at the time of declaration. Plus, the state of Indiana requires you to complete a pre-filing bankruptcy course before submitting your forms to the local clerk. Along with the certificate from the class and any supplemental documentation, you'll also need to give the local clerk a money order for $335.
How Would a Bankruptcy Attorney Help Me With Filing?
The U.S. Federal Court strongly recommends hiring an attorney for bankruptcy proceedings. Only bankruptcy attorneys have full access to the fast online systems that manage the entire bankruptcy process in your state. An attorney will know the right court district, forms, supplemental documentation needed and any other pertinent information required to declare bankruptcy legally. Ultimately, with the help of an experienced lawyer who you trust, your bankruptcy filing will generally go more smoothly.
Sawin & Shea – Indianapolis Bankruptcy Attorneys
Filing for bankruptcy is not the end. It's the beginning of a new financial life for you. The Indiana bankruptcy attorneys at Sawin & Shea can help you get rid of the overwhelming debt and advise you on life after bankruptcy.  We are here for you during this life-changing process. Please do not hesitate to call us today at 317-759-1483 or send an email for a free consultation. We are ready to help.