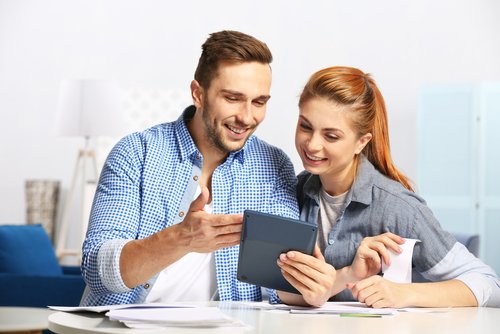 Going through bankruptcy to clear yourself of debt takes time. Once you receive your bankruptcy discharge, you understandably are ready to get your life back on track. Rebuilding your credit is a crucial part of your recovery. If creditors are still listing discharged debts as past due after your discharge date on your credit report, it is time to dispute these errors and clean up your credit history.
Will creditors still harass me during bankruptcy?
Creditors must stop harassing by phone or mail your cases is filed, but they can potential report negatively on your credit report until you receive your chapter 7 bankruptcy discharge (Chapter 13 is more complicated and will be covered in a future article). Once your creditors are sent a bankruptcy discharge notice they must refrain from reporting the debt as being past due or outstanding to the credit reporting agencies. Some creditors disregard these requirements in the hopes of convincing an individual into paying the now discharged debt to clear up their credit rating.
How do I check my credit report for errors?
Approximately 30 days after a Bankruptcy Discharge you should request copies of your credit report from the three major consumer reporting agencies or CRAs (TransUnion, Equifax, and Experian). You can obtain a free copy of your credit reports at annualcreditreport.com.  Challenging any errors is the first step in correcting and improving your credit score. More importantly, individuals have no rights to sue and recover damages unless they have challenged the credit reporting error.
How do I dispute an error on my credit report?
Report the error in writing

– Send a dispute letter by mail. An example can be found on the Federal Trade Commission's

website

. (Do

not

challenge online)

Send letters to all parties

– Send to all three of the credit bureaus and the creditor listing the error.

Include documentation

– Send copies of all documents supporting your claim (including your bankruptcy discharge and creditor listing in the bankruptcy)

Send a copy of your credit report

– Circle the error on it.

Mail by certified mail

– ask for a return receipt.
What can I do about creditors that continue to list incorrect credit information?
The credit agencies must investigate your claim within 30 days and respond, in writing, when a decision is made. If they find your dispute is valid, the creditor in question must revise and update the incorrect information. These agencies are required by the Fair Credit Reporting Act (FCRA) to keep accurate records of your credit. Debts that have been discharged through bankruptcy can no longer be reported as unpaid. They must be shown as a zero balance and indicate the debt is discharged through bankruptcy. If you find an error, report it. Look for unfamiliar creditor names. Often discharged debts are purchased by a third-party who continues to report on your credit report. Unfortunately, some companies continue to list the unpaid debt by converting it into a re-aged accounts or by giving it a new account number. If you still see the error on your report after you have sent a proper challenge, it is time to contact Sawin & Shea LLC.
Will my bankruptcy show up on my credit report?
Bankruptcy is noted on your credit report for up to 10 years following your discharge. Your discharge debts can still show up on your report. These debts should have a zero balance or be listed as part of your bankruptcy discharge. If you discover an error, send a dispute letter and proceed from there. Bankruptcy attorneys like those at Sawin & Shea LLC will be happy to help you iron out your disputes with creditors.
Sawin & Shea LLC – Indianapolis Bankruptcy Attorneys
Bankruptcy is not an end but a new beginning. Improving your credit history is a top priority after your discharge. The Indiana bankruptcy attorneys at Sawin & Shea LLC have years of experience representing good people in bad financial situations caused by massive debt. Please do not hesitate to call us today at 317-759-1483 or send an email for a free consultation. We are ready to help.