Everyone needs a break occasionally. But if you're trying to decide if you should file for bankruptcy, going on vacation is more complicated.
Here's what you need to know.
Vacation in Chapter 7 Bankruptcy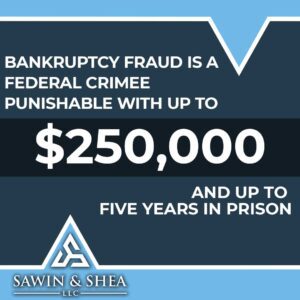 You can take a vacation before filing for Chapter 7 bankruptcy if you've already paid for it, you weren't experiencing financial difficulty at that time, and it's non-refundable. If you booked it well in advance, your financial situation may have changed significantly. You will need to prove your financial situation was stable when you booked the vacation, or your bankruptcy case may be affected. If the trip is refundable, you may have to liquidate your tickets or vouchers and give that money to your creditors.
The court considers it bankruptcy fraud if you have already filed for bankruptcy and then spent your money on a vacation within three months of filing. Bankruptcy fraud is a federal crime, and the penalties are very steep. It is punishable with up to five years in prison and up to $250,000 in fines that the court won't discharge in bankruptcy.
Vacation in Chapter 13 Bankruptcy
In Chapter 13 bankruptcy, the court creates a plan that allows you to pay your debt in three to five years. In this scenario, it is easier to take a vacation because you aren't asking the court to discharge all your debt. Your attorney can work with your trustee to approve your travel.
However, taking a trip in Chapter 13 bankruptcy is still contingent on your ability to cover your scheduled loan payments. In addition, you must be mindful about the type of vacation you plan. You filed for bankruptcy because you can't pay your existing debt. Therefore, traveling to a five-star luxury resort won't make a great impression on the bankruptcy court. Consider a trip to a national park for free recreational activities such as hiking or cycling, or spend a week at a friend's beach house within driving distance.
These are some precautions to consider before taking a vacation during Chapter 7 or Chapter 13 bankruptcy:
Use a debit card, not a credit card.
If you're going overseas, ask for permission from your bankruptcy trustee. 
Thoroughly fill out a trustee travel request with your reason for traveling, dates, destinations, contact details, and payment information.
Don't miss any court deadlines or meetings.
Use disposable income to pay vacation expenses.
Don't take on new debt.
Have an emergency fund set aside for unexpected situations while traveling, as some expenses may not be covered by bankruptcy protections.
Be aware that bankruptcy exemptions and protections may vary from state to state and in different countries. If you own valuable assets or property, consult with your attorney to understand how they may be affected by international travel.
Stay in regular communication with your bankruptcy attorney while traveling in case any issues or questions arise.
Can I Get a Passport When Going Through Bankruptcy?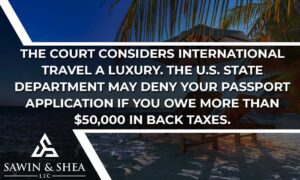 The court considers international travel a luxury. Therefore, the U.S. State Department may deny your passport application if you owe more than $50,000 in back taxes. You can expect to wait 90 days after you've paid those debts to get a passport. The State Department may also deny a passport if you owe more than $2,500 in child support.
Can You File for Bankruptcy in Another State?
Filing for bankruptcy in another state is possible, but it typically involves specific rules and considerations. Federal bankruptcy laws apply uniformly across the United States, which means you can file for bankruptcy in a state other than your current residence. However, there are residency requirements that vary depending on the type of bankruptcy you're pursuing. For Chapter 7 bankruptcy, you typically file in the district where you've lived for the greater part of the previous 180 days or where you currently reside. In Chapter 13 bankruptcy, you should file in the district where you've had your principal residence or your principal place of business for the majority of the 180 days preceding the filing. While you can file in another state, it's advisable to consult with a bankruptcy attorney in the jurisdiction you're considering to ensure you meet all the local requirements and to navigate any potential complexities associated with filing in a different state. Additionally, bankruptcy exemptions, which determine what property you can keep, vary from state to state, so consulting with the attorneys at Sawin & Shea, LLC can help you understand how those exemptions may affect your case.
Do You Need to File for Bankruptcy? We Can Help.
The attorneys at Sawin & Shea, LLC provide compassionate legal representation for people going through bankruptcy. We can help you navigate the bankruptcy process and answer important questions, including, "When should you go bankrupt?" and "Can bankruptcy travel overseas?" Don't risk sabotaging your bankruptcy by being uninformed about your travel plans. Contact us at 317-759-1483 or send us an email for a free consultation today!