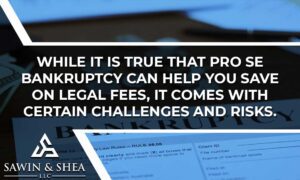 If you're wondering "Can I file for bankruptcy without a lawyer?" The answer is yes. The option to file for bankruptcy without an attorney, known as Pro Se bankruptcy, is available under the United States bankruptcy law. Many individuals choose this path in an attempt to save money on attorney fees because it is one of the cheapest ways to file bankruptcy. However, it is crucial to consider whether this is a wise decision.
While it is true that Pro Se bankruptcy can help you save on legal fees, it comes with certain challenges and risks. Bankruptcy law is complex and navigating it successfully requires a deep understanding of the intricacies involved. Similar to seeking professional help for issues like car repairs, medical concerns, or plumbing troubles, bankruptcy lawyers possess specialized knowledge that proves invaluable in handling your financial situation.
Six Reasons Why You Might Want to Reconsider Filing for Bankruptcy Online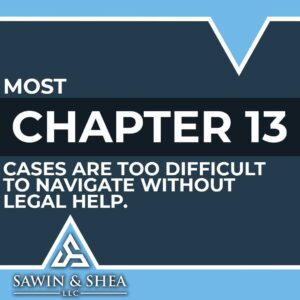 Lack of Comprehensive Knowledge: Bankruptcy law, like many other legal fields, can be bewildering. Understanding the nuances of rent agreements, employee contracts, or website terms is complicated enough, but filing for bankruptcy involves a host of intricate details. Successfully filing for bankruptcy is not merely a matter of filling out forms; it necessitates a deep understanding of various aspects such as determining the appropriate bankruptcy chapter for your situation – whether you need a bankruptcy Chapter 7 lawyer or a bankruptcy Chapter 13 lawyer – identifying your assets and debts, and selecting the correct exemptions to protect your property.
Keeping Track of Deadlines: Bankruptcy cases involve numerous documents to complete and file in addition to the initial petition. Missing filing deadlines or submitting incorrect forms can have severe consequences, jeopardizing the entire bankruptcy process. On the other hand, experienced bankruptcy attorneys have well-established systems and staff to handle such matters efficiently, ensuring a smooth bankruptcy filing.
The Presence of an Experienced Adversary: When you file for bankruptcy, a bankruptcy trustee is appointed to oversee your case. Their role involves identifying any non-exempt property and selling it to benefit creditors. A seasoned bankruptcy attorney is adept at safeguarding your interests, protecting your assets, and guiding you through the process. Attempting to match the skill and knowledge of a bankruptcy trustee as a Pro Se filer can be challenging and risky.
Potential Harm to Family and Friends: Filing for bankruptcy allows the trustee to undo certain property transfers, which means they can reclaim money or property that you have used to help family or friends. This power can extend up to four years before the date of your bankruptcy filing. This potential consequence may adversely affect your relationships and create further stress.
Pro Se Cases Have a Higher Failure Rate: Statistics show that Pro Se bankruptcy cases have a higher failure rate compared to those handled by experienced attorneys. Many individuals who attempt to navigate bankruptcy on their own do not receive their discharge, and some may even become ineligible to file for bankruptcy again. Hiring a reputable attorney can significantly increase your chances of success.
Avoid Unnecessary Stress: Factoring in the value of your time, hiring an attorney to handle your bankruptcy is often more cost-effective than attempting to do it yourself. Furthermore, legal professionals take full responsibility for ensuring a successful case outcome. They anticipate potential issues and work diligently to resolve them before filing your case.
Trust the Expertise of a Skilled Bankruptcy Attorney
While the option to file for bankruptcy without an attorney exists, it is essential to weigh the benefits against the potential risks. The complexities of bankruptcy law, coupled with the potential consequences of a failed case, strongly suggest seeking the assistance of a qualified bankruptcy attorney for the best possible outcome.
If you are dealing with debt collectors, foreclosures, and other harassment because of your debts, contact one of our lawyers at Sawin and Shea, LLC. We can help you file for Chapter 13 bankruptcy or Chapter 7 bankruptcy, depending on your needs. Our attorneys have helped thousands of people just like you get the fresh start they deserve. We are here to help. Speak to an attorney today at (317) 759-1483 or contact us online.