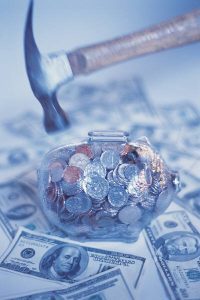 The good news is that under both Indiana law and federal bankruptcy law most types of retirement accounts are given broad protection from creditors and seizure in bankruptcy. This means that you are able to keep your ERISA qualified retirement plan, pre-tax plans such as your IRA, 401(k), and 403(b), and Roth IRA through the bankruptcy process. It is for this very reason that I generally counsel my clients not to withdrawal funds from these accounts to pay off debt. Your retirement plan is there to use for your retirement, and the powers that be have enacted laws to help you keep it.
There are other reasons not to withdrawal money from a protected retirement account to pay debts. When you make an early withdrawal or receive an early distribution from these pre-tax retirement accounts, there are tax consequences. Generally, you will owe tax on the withdrawal. In addition there are penalties associated with early withdrawal. This tax burden can ultimately result in a person owing taxes on the withdrawal that cannot be discharged in bankruptcy.
The bottom line is that we strongly discourage early withdrawals from a pre-tax retirement account or Roth IRA in an effort to pay off debts. There are other options. An experienced Indiana bankruptcy lawyer can help you deal with debts while helping you protect important assets from your creditors.
Please feel free to call us now at 317-759-1483 or send us an email to schedule a free consultation with an attorney to review your personal situation.
About the Attorneys
Andrew Sawin received his Bachelor of Arts degree from Indiana University in 1989 and his Doctor of Jurisprudence from Indiana University School of Law – Indianapolis in 1995. He has concentrated his practice in the field of Consumer Bankruptcy for the past 15 years.
Richard Shea graduated from California State Polytechnic University, Pomona with a Bachelor of Science degree in Hotel & Restaurant Management in 1995 and received his Doctor of Jurisprudence from Indiana University School in 1998.