Financial crises can devastate self-esteem and family relationships and hamper a person's ability to cope with life in general. The good news – the light at the end of the tunnel – is that there is an excellent way to ease these fiscal-related woes: filing for bankruptcy.
What is the Best Time to File for Bankruptcy?
Many people ask, when should you file for bankruptcy?
There are some general guidelines, but speaking broadly, it's a good time to consider bankruptcy if you:
Are living paycheck to paycheck
Are facing foreclosure
Creditors are calling
Collection lawsuits or judgements
Are dipping into retirement savings to pay bills
Are using more than three credit cards to pay for things like groceries and utility bills
Have exhausted all other options and still can't afford to meet your financial obligations
What Are Some Specific Reasons People File for Bankruptcy?
There are many reasons someone might file for bankruptcy. Some people may be overwhelmed with credit card debt, especially those who spend more than 20% of their annual net income on credit card bills, have maxed out limits on several cards, and/or can only afford to pay the minimum on credit card bills. Others may be unable to make their monthly mortgage payments due to an unforeseen job loss, for example.
But by far, the burden of unpaid medical bills is one of the biggest factors in bankruptcy filings. According to the Kaiser Family Foundation, 41% of U.S. citizens carry some sort of medical debt, and a significant percentage of those people seriously consider filing for bankruptcy.
Addressing the Bankruptcy Stigma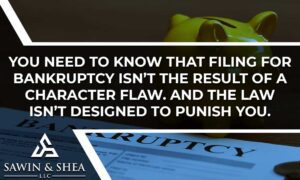 Aside from the intense financial anxiety people may feel about their inability to pay their bills and the uncertainty of when do you file for bankruptcy, there is the additional societal stigma surrounding bankruptcy. And that's despite the fact that hundreds of thousands of people file for bankruptcy each year.
You need to know that filing for bankruptcy isn't the result of a character flaw. And the law isn't designed to punish you. Rather, it's intended to give you a fresh start. There is absolutely no need to feel guilty or carry shame about filing for bankruptcy.
Bankruptcy Relief
Filing for bankruptcy can not only assuage the anxiety and guilt associated with insolvency, but it can provide much-needed relief from creditors' harassing phone calls.
When you file for bankruptcy, the law immediately puts into place protections, including one that forbids creditors from contacting you in any way.
Many people say this is one of the best benefits of filing for bankruptcy.
What is the Difference Between Chapter 7 and Chapter 13?
You can file for bankruptcy in two different ways: Chapter 7 and Chapter 13.
What are the differences between the two?
Filing for Chapter 7 bankruptcy centers on liquidating assets, while Chapter 13 bankruptcy focuses on reorganization.
Chapter 7
Chapter 7 bankruptcy (the most common form of bankruptcy) essentially wipes away a large portion of your unsecured debts and includes rules to protect assets that are classified as exempt at the time you file. Unsecured debt includes things like credit card debt, medical debt, and personal loans.
Important Note: to qualify for Chapter 7 bankruptcy, you must pass an income based means test first.
Chapter 13
Like Chapter 7, Chapter 13 considers your financial situation before filing for bankruptcy. However, Chapter 13 allows you to keep certain property and pay all or portions of debts amortized over an extended period of time (3-5 years). 
(The above descriptions provide a very broad overview of these two types of bankruptcy filings, but debtors should discuss these options at length with a lawyer who has experience in bankruptcy.)
When Should I Contact an Attorney?
While it's perfectly legal to file for bankruptcy on a 'pro se' (i.e., without an attorney) basis, it's very likely it won't behoove you to do so. Bankruptcy law and the process for filing are complex, and if you want your filing to succeed, it must be accurate, which most people can't deliver without an attorney's help.
An attorney with experience in bankruptcy law can help you with filings and discuss with you the credit consequences of filing for bankruptcy. The Indiana bankruptcy attorneys at Sawin & Shea, LLC have been helping people navigate the bankruptcy process for years. If you're considering filing for bankruptcy, call us at 317-759-1483 or request your free consultation online.